"The Hills" Is Officially Over the Finale Prompts Cast Hair Care Questions
Posted on July 15, 2010, 9:57 AM
The show may be over but the wrap party, at The Hollywood Roosevelt Hotel, proves the cast has learned a thing or two about hair care.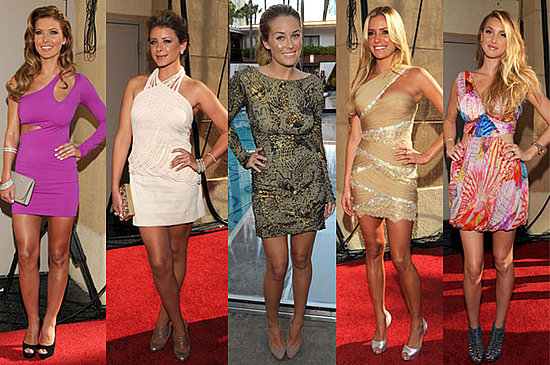 "The Hills" Is Officially Over the Finale Prompts Cast Hair Care Questions
After six long seasons, MTV's "The Hills" is officially "dunzo," as star Kristin Cavallari once said on "Laguna Beach." The series finale aired live while the cast gathered at Los Angeles' famous Hollywood Roosevelt Hotel pool, which also happened to be featured in the very first episode of the reality show. As the cast graced the red carpet, we noticed one trend standing out among the rest – beautiful, healthy hair. It's true that over the years, the Hills girls learned a thing or two about
hair care and looking great on camera, but we have to say it…we're impressed.

Audrina Patridge, whom Heidi Montag met at her apartment complex pool, has been touting a lighter version of her normally chocolate brown locks. Patridge's hair was shiny and perfectly coiffed as she spoke about the show ending being "bittersweet." Patridge will be staying busy since the ending of her hit show. She was recently announced as the newest face for BONGO fashion company and has been auditioning and training as an actress.

Lo Bosworth wore her dark blonde tresses in a poufy updo that was a switch from her usually flat hair. We love that she lets her roots show a bit, going for the "bronde" color that Hollywood has been sporting as of late, which also allows for more time between touch-ups, keeping hair healthier. Bosworth recently launched her new website, TheLoDown.com, where she will give advice on dating, beauty, fashion and lifestyle. The USC graduate is also coming out with a book about dating and relationships, also titled "The Lo Down," set to hit shelves in January 2011.

The girl who started it all, Lauren Conrad, had her thick blonde hair in a stacked ponytail, perfect for an LA party. Conrad's hair went through many changes through the show's seasons; the reality star started off season one with platinum blonde locks, went through a serious headband phase and then ended being obviously obsessed with her curling iron (and even burning a designer dress with one). Since the show's ending, Conrad has two books coming out: her third book in her "LA Candy" series and a style guide titled "Lauren Conrad Style." Conrad also continues to be a spokesperson for Mark Beauty and was recently featured in the famous Got Milk? ad campaign.

Ahhh, "The Hills" infamous bad girl, Kristin Cavallari, is a true California girl. Her golden blonde hair was worn down and straight at the series wrap party. Cavallari is known for being the girl that every guy wants and every girl wants to be…last night was no exception. Since the days of "Laguna Beach," Cavallari has always clearly known good hair care, as she's gone from short and straight to long and wavy, all the while remaining flawless. Cavallari's future remains the most mysterious out of the bunch. She's said to be moving to London for a bit but only time will tell if she actually leaves the west coast for some English action. Do we smell another spin-off?

Lastly, Whitney Port also returned to say goodbye to her old cast mates. Port's spin-off show, "The City," remains in tact (for now), even with rumors that it isn't doing well in the ratings and that to give it a boost, Stephanie Pratt might be joining the cast (Pratt denies this). Since returning to the west coast from New York City, Port opted to wear her blonde hair down and a bit messy. This was probably our least favorite look of the night but aside from the slight messiness, we do love the fact that "The City" star lightened her shade up a bit from her usual "bronde" tone. Port remains the star of "The City" and is also continuing work on her clothing line, Whitney Eve.