The Spring Nail Colors I'm Loving Right Now

Posted 03/06/12 at 12:34PM by Total Beauty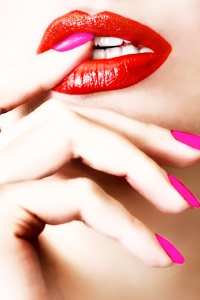 I can always tell when spring is about to arrive in New York City. Central Park gets a little more crowded. New Yorkers get a little friendlier. And the polishes women start reaching for at the nail salon change from dark purples and blues to bright pinks and corals.
This year is no exception. In fact, the biggest nail trends for spring involve brighter-than-ever colors and bold effects. Here are the ones you'll want to try the next time you get or give yourself a mani:
Green
This hue may sound strange for nails, but it is huge for this season. In fact, Essie Weingarten, creator of Essie Polish, says it's
the
color of 2012. Skeptical? Keep in mind there's a huge range of greens to try, from pretty (and subdued) pistachio to dark (bold) hunter green. My go-to green this season:
Essie Nail Polish in Navigate Her
, $8.
Orange
This bright color is everywhere right now -- from home décor to fashion and yep, even on nails. To me, orange nails scream 1960s. Which makes sense, because from mod dresses to color-blocking to platform heels, flower-child fashion is back this spring. So it's no surprise that we're also seeing the trend on nails. My favorite orange shade?
Sonia Kaschuk Nail Colour in Tango Mango
, $5.
Glitter
From holographics to shiny shimmers, glittery nails will be all the rage this spring. I know what you're thinking: You're too old for glitter, right? Wrong! Glitters have gotten an updated, grown-up spin. Opt for tones with soft, subtle flecks of silver or gold, or tone-on-tone (meaning pink polish with pink flecks). Still not convinced you can pull off this trend without looking like a 10-year-old? Use a soft, shimmery flesh-toned polish as a first coat, then top with a light coat of your glittery shade. This season, I'll be wearing
Nicki Minaj by OPI Nail Lacquer in Save Me
, $8.50.
Hot Pinks
Flamingo and electric pinks have always been a warm weather fave, but this season, go even brighter than you have before (think neon!). You'll know you've got the right shade if you look at your nails and immediately think you belong in Miami. Here's the hot pink I think works on
every
skin tone:
China Glaze in Fuchia Fanatic
, $5.99.

Our Expert Guides