Reader Q&A: "How Can I Streamline My Morning Makeup Routine?"

Posted 06/20/11 at 08:21PM by Audrey Fine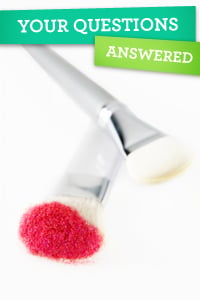 Cathy from Minneapolis asked, "How can I streamline my morning makeup routine?" and because this is a query we receive a LOT, we thought many of you would like some tips. So ... here they are.
Step 1
: Apply foundation
To hide flaws and even out your skin tone (without looking like you're wearing a mask of makeup), dot light-coverage foundation like
CoverGirl NatureLuxe Silk Foundation
, $9.74, on areas of your skin that need the most coverage. Then blend well using a foundation brush like
MAC Duo Fibre Brush
, $42, which will give you a natural finish quickly, but won't leave brush marks behind.
Step 2
: Dot on concealer (if you need it)
If you still have noticeable pimples or dark circles after applying foundation, use a little concealer to help camouflage them -- but make sure that the shade matches your skin and foundation perfectly or you're defeating the purpose. For dark circles, use a formula with a light-reflective quality to diffuse darkness (try
Yves Saint Laurent Beauty Touche Eclat Radiant Touch
, $40), and blend it gently with your ring finger. For pimples, use a thicker, stickier formula that will cling to the spot and stay there (try
CoverGirl TruConceal Concealer
, $7.49). Gently dot it on with a brush (or provided sponge applicator).
Step 3
: Sweep on blush
Dust on peachy-pink blush (a universally flattering shade) in a cream formula if your skin is dry, or a powder formula if your skin is oily. Try
CoverGirl and Olay Simply Ageless Sculpting Blush in Plush Peach
, $10.49, or
Nars Blush in Orgasm
, $25, on the apples of your cheeks, using a fluffy brush or fingertips (if using cream) to brighten up your face.
Step 4
: Apply shadow and liner
Choose a slightly shimmery eyeshadow (try
CoverGirl Eye Enhancers 1-Kit Shadow
, $3.47), in a neutral shade (like vanilla, taupe or medium brown), and sweep it across your lids. Then use a soft pencil eyeliner -- use brown for light-to-medium skin tones and black for medium-to-deep skin tones -- to line top lash lines (try
Victoria's Secret VS Makeup Eyeliner
, $8). Keep the line thin and apply it as close to your lash lines as possible. Then use a smudging brush or Q-tip to slightly blend the line for a more natural finish.
Step 5
: Apply mascara
Use black mascara in a lengthening or volumizing formula (try
Lancome L'Extreme Mascara
, $24.50, or
CoverGirl LashBlast Volume Blasting Mascara
, $7), whichever fits your needs best, and apply two coats. Be sure to get as close to the base of your lashes as possible and wiggle the brush through to the ends of your lashes. This will help define your eye shape and your lashes for a high-impact finish.
Step 6
: Apply lipstick or gloss
Choose a lipstick or gloss (whichever you prefer) in a sheer neutral shade that has a hint of pink or peach to add a touch of color to your face. Try
CoverGirl ShineBlast Lip Gloss in Aglow or Beam
, $8.49; or if you prefer lipstick, try
CoverGirl LipPerfection Lipcolor
, $30, it moisturizes lips and goes on like a dream.
And, there you have it. Seven simple steps to get you gorgeous and out the door in no time flat.
Want a cute, easy-to-do hairstyle too? Of course you do. Check out
this universally flattering -- and fun -- trend
.

Our Expert Guides