My Plan to Kick Mauve to the Curb and Embrace Trendy Brights [GALLERY]

Posted 05/11/12 at 04:25AM by Audrey Fine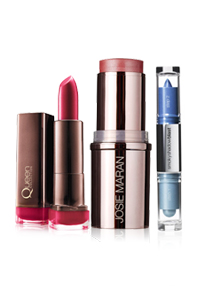 I've lost track of how many times I've been sucked into reading about a bold new makeup trend only to get to the inevitable part that says, "But if you're more than 20 years old, skip it. You'll look ridiculous." So I kind of figured that's what the experts would be saying about this year's influx of beautiful brights. Guess what? I was wrong. In fact, the pros I spoke to
love
vivid makeup on women of all ages.
"When placed strategically, color can really liven up the face," says celebrity makeup artist Julianne Kaye. "I always encourage women to experiment with new trends to keep their look current, and that applies to all women, no matter how old they are."
In theory anyway, there's no better way to draw attention to your best feature than makeup in an eye-catching, unexpected hue, but still ... If, like me, you're curious about brights but fear you'll end up looking like an extra from some '80s movie don't worry. Whether you're looking for a super-brilliant night-out look or just a summery wash of color for daytime (even at work), here's how to master bold makeup shades and look chic, not silly.
See which trendy brights to try now.
-- by Virginia Pelley

Our Expert Guides