What I'm Getting My Mom for Mother's Day

Posted 04/27/11 at 02:59PM by Rebekah George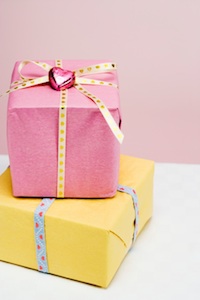 Even though I can't believe it's almost Mother's Day (I swear it seems earlier this year!), my mom has nothing to fear. She always knows she can count on a good gift from me, normally beauty products, and she's not complaining! Here are a few of the awesome items I'll be wrapping up next Sunday...
Makeup, makeup and more makeup
Whether your mom is a makeup junkie or novice, the Sephora Colorista Custom Makeup Palette, $155 is
the
"it" kit. It comes with 35 shades of eyeshadow, 15 lipsticks and glosses, four blushes and two bronzers. It's a great way for your mom to experiment with different makeup -- like if she's never worn bronzer. But it's also ideal for the mom who's tried every color of the rainbow on her eyes. Plus, there's so much to play with that it will literally last her through next Mother's Day.
A chic fragrance
OK, so maybe you can't buy your mom couture this Mother's Day, but you can buy her a designer fragrance. Escada Collector's Edition Coffret, $43 comes with five mini fragrances from the Escada couture collection. It will totally make your mom feel like she's living out of Rachel Zoe's closet. Plus, the fragrances are perfect for this time of year with summery scents like Sunset Heat and Ocean Lounge.
Splurge-worthy (yet inexpensive) brushes
I'm a huge fan of replacing your beauty brushes every few years. I mean, no matter how often you clean them, they get pretty disgusting after a while. Sonia Kaschuk Gold Mine 7 Piece Set, $24 is the perfect gift. Not only are the brushes made with real animal hair, but they also look super chic and come in a straw case that can easily double as a clutch for a summer night out.
If none of these ideas strike your fancy, you can watch this
video that's all about your must-have products for spring
and maybe pick up a few nuggets of inspiration there.

Our Expert Guides