3 Spring Beauty Trends I Can't Get Enough Of

Posted 03/29/11 at 01:29PM by Rebekah George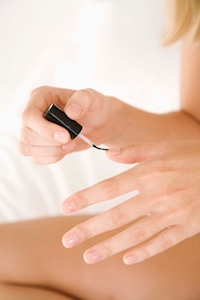 Hooray! Spring has sprung and that means it's time for a fresh start. Not only with my closet -- trading in sweaters for breezy dresses -- but also with my beauty routine. Buh-bye thick face cream, sayonara wintery hues. This season I'm pretty psyched to try these three trends. (Confession, I've already road-tested them around my apartment.)
Coral craze
: I love anything that reminds me of the ocean. Probably why I've long been a huge fan of coral rings and necklaces and why I literally jumped for joy when I started spotting coral as the color du jour for spring 2011. Wear it on your lips, cheeks, eyes, even as an accessory in your hair -- coral really warms up your look. But be cautious; as I always say, 'don't go crazy with any trend' and, the
last thing
you want is matchy-matchy coral. So keep the color to one area -- i.e. lips
or
cheeks, not both. (Though, you
can
rock some pretty pinky-orange jewelry too.)
Easy-to-do hairstyles
: How great is this trend of not having to fuss much with your hair? Between the slicked back styles we've seen on runways and high ballerina buns (thank you "Black Swan"), there're lots of choices for us time crunched ladies. Both styles look really polished and sophisticated but don't require a lot of work.
Take slicked back hair. Just use a little gel and comb in through wet hair -- then pull back and secure tightly with a band in a low pony. For the high bun -- allow your hair to air dry and then comb it back tightly and secure it up high into a bun. Finish with hairspray to keep it in place and tame annoying flyaways.
Neutral nails
: As much as I love color, I'm over the high maintenance/easily chipped bright mani/pedi. Plus, I'm equally tired of seeing dark, vampy nails or, ugh, greige (the word alone is
so
last season). So color me happy that pretty, neutral nails are back this spring. Look for colors that are milky and sheer. (I've been a fan of
Essie Nail Polish in Sugar Daddy
, $8 since 2000.) They are soft, feminine and most of all -- you don't have to plan your weekly calendar of outfits around your manicure. Neutral nails match anything.
Know what
else
I'm loving this season? A
no-makeup, makeup look
.

Our Expert Guides