3 DIY Home Treatments I Love for Summer-Ravaged Hair

Posted 08/01/11 at 05:40AM by Audrey Fine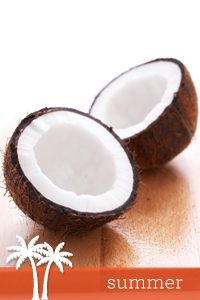 If your hair's bearing the brunt of too much chlorine, salt, sun, and over-styling, you're soooo not alone. My hair is toast.
And I don't know about you, but the last thing I can afford to drop a bunch of cash on right now is some fancy-pants salon revitalizing treatment.
The solution? DIY to the rescue. Don't get me wrong: I'm not some hippy-dippy, "let's make our own soap" type. But I see absolutely nothing wrong with getting your hands (and kitchen/bathroom) dirty in the name of effective and
affordable
treatments.
So there.
Here then, without further editorializing, are my three tried and true recipes for (undoing) disaster:
Go Mediterranean
: Slather olive oil onto your hair and then grab the blow dryer and blast hot air on your roots and ends to help your hair better absorb the oil. Leave it on for as long as you can stand it (I wrap my head in plastic wrap and a towel and keep it on overnight), then shampoo and condition. (If you have fine hair and worry about olive oil weighing it down, skip this treatment and add a teaspoon of avocado oil -- it's lighter -- to your conditioner and use it the way you always do.)
Get Natural
: Mix a tablespoon of lavender oil and two tablespoons of coconut milk together. Massage into dry hair before bed and rinse off in the morning to reveal healthier looking and feeling hair. (It'll smell delish, too.)
Raise Your Glass
: To add shine back to dull, dry hair, rinse with beer. The acids in the beer eat through all of the gunk that's coating your hair and tighten the outer cuticle so that light bounces off it and makes your hair glisten. (Note: if you don't want to smell like a brewery, the juice of a lemon mixed with a cup and a half of water has the same buildup-busting effect.)
Love DIY? Check out
My Favorite All-Natural (and Cheap) Concoctions
.

Our Expert Guides