2010 Emmys: Here's the Celebrity Makeup Look I Liked Best -- Which Star's Style Do You Think Rocked?

Posted 08/30/10 at 07:31PM by Total Beauty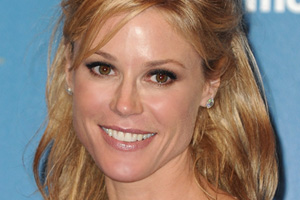 More than any other self-congratulatory Hollywood shindig, I love watching the Emmys. Of course, it's entertaining to see what everyone's wearing and to make fun of the fashion don'ts (unfortunately I'm talking to you January Jones -- sorry) but, because I write about TV for a living, I have a semi-vested interest in who actually wins.
To that end, I was thrilled not only to get a bonus dose of George Clooney last night, but that my favorite new show, "Modern Family," walked away with the Best Comedy trophy. It's a veritable laugh riot and the cast rocks -- and, as they proved, they also light up a red carpet.
Naturally, the show's resident hottie, Colombian bombshell Sofia Vergara was a knockout in a yellow, beaded Carolina Herrera number with her long hair cascading sexily about her shoulders (she reduced Billy Bush to little more than a stammering fool -- or is that just his natural state? Hmm ...) but it was Julie Bowen -- whom I've liked since her days on "Ed" -- whose look I coveted most.
Wearing a strapless, navy (apparently, it's the new black) J. Mendel gown, Bowen gave Vergara a run for her money in the beauty department and, while I wasn't 100 percent crazy about her hairstyle, I loved the makeup. Her deep, smoky eye makeup really played up her green eyes nicely.
But, how to get it? I took this
smoky eye quiz
a while back and, after answering six simple questions, it guided me through various attempts to get the perfect dramatic eye on my very own, less than large, brown eyes.
To get the look on my "hooded" eyes (sounds attractive, n'est ce pas?), I need three shades of eyeshadow in varying degrees of tone (light, medium, dark), three brushes -- fluffy, stiff and dome-shaped, an eyelash curler, liquid liner and mascara.
As for my application technique, here's how I get great results:
Step 1:
I use the stiff brush to sweep the lightest shadow shade all over my lids.
Step 2:
Next, I use the fluffy brush to apply the medium shadow shade under the hooded area of the crease, and blend it well. (I generally use powders that are in the plumy/purple family as I think they work nicely with my dark brown eyes.)
Step 3:
Then I use the dome-shaped brush to blend the darkest shadow shade onto the hooded part of my eye. Blending it in small, circular motions from the center of my lid toward the outer corners.
Step 4:
Line along my top lashlines with liquid liner and line the bottom lashlines with the darkest shadow shade.
Step 5:
Finish by curling lashes and applying two to three coats of mascara.
Et, voila! I have smoky eyes to rival Kim Kardashian's. (What the heck were she and Kate Gosselin doing at the Emmy's, btw? Not sure they're worthy.)
Who did you think rocked the red carpet best? Chime in, would love to hear your thoughts.

Our Expert Guides