Posted by Total Beauty 05/24/13 at 11:59AM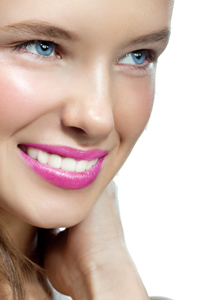 By: Kristina Grish
Having a bright, white smile on your wedding day should be a top beauty priority for all brides. Pearly whites pop in photos, complement bronze skin, and radiate a glamorous vibe. But before you book an appointment with your dentist, road-test sting-y bleaching strips, or impulsively buy a kit from a pop-up mall kiosk, get educated about your best options. I mean, we are talking about the mouth that'll kiss your groom ...
Arthur Glosman, DDS, Beverly Hills-based cosmetic dentist, says to choose a product based on the amount of peroxide in it (this often determines cost, too) and how long it says the effects will last -- usually up to several months, but this can be hampered by smoking and eating stain-producing foods like coffee, tomato sauce, and red wine. If you already have heavy staining or a blackish-gray hue from tetracycline damage, whitening usually won't work, so consider bonding or veneers instead. Just know that all paths to a brighter smile aren't created equal. "As with an engagement ring, you get what you pay for," he says.
To help find the best system for your needs, see your dentist first for a checkup and professional opinion. If you're doing this at home and just want to take the plunge, Glosman says to avoid an over-bleached smile by matching the color of your teeth to the whites of your eyes, and look for kits that have at least 10 percent hydrogen peroxide, but no more than 12 percent (you can also use carbamide peroxide, which has about a third of its strength). But now, a few tips to help you narrow down your options:
Option 1: In-Office Treatments
To maximize coverage, a relatively high concentration of peroxide is professionally applied to your teeth, with or without a light or energy source to accelerate the process. This can be done by your dentist or an in-office facility like BriteSmile. Glosman calls this a "power wash," since it has immediate and significant results. Those with stubborn stains can return for additional sessions or ask for a professional take-home kit; Glosman also suggests on-the-go whitening pens for stain prevention, after your session. An in-office treatment also allows your dentist to take your medical history, note sensitivities and allergies, accommodate restoration work, and recommend a custom approach that's best for you.
Cost:
$400 to $600.
Option 2: Kit from Your Dentist
Traditionally, professional take-home whiteners use trays containing a strong concentration of peroxide, but not as high as when done in-office. "These provide a great, long-lasting, whiter smile," says Glosman. He suggests Ultradent products, particularly its Opalesence whitening system, which whitens teeth, decreases sensitivity, and protects the enamel; the sticky gels also don't leech through the tray, make a mess, or irritate gums. He also likes whitening kits with "boil and bite" trays that form from a mold that fits to your teeth after running it under warm water. These provide a great fit that help the peroxide better connect with individual teeth, and are also great for people who grind their teeth at night.
Cost:
$400 to $800
Option 3: At-Home Whitening Kits from Home Shopping Channels
At-home kits you see on TV typically contain the most bells and whistles, their efficacies are based on peroxide strength, which is important if you want to do more than just remove surface stains. Glosman suggests Aerowhite, a spray with a high concentration of bleach, followed by a rinse, for immediate results. "My patients like it because it's easy to use, there are no messy gels or strips or uncomfortable trays, and it works," he says.
Cost:
$50 to $200
Option 4: Drugstore Products
Your best drugstore buys are kits that use small strips, typically using a low concentration of peroxide, which fit over the front of teeth. "Toothpastes, gums, gels, and mouth rinses sold as whitening products rarely contain any or enough peroxide to significantly change the color of your teeth," says Glosman. "However, many toothpastes contain abrasives, which used with a proper brushing technique, can physically remove surface stains." For strips, he likes Crest's line for a stronger whitening system, and if you experience sensitivity, try
Crest 3D White Whitestrip Gentle Routine
, $35.95. For toothpastes, he likes
Arm + Hammer Mentadent Advanced Whitening Toothpaste
, $5 since it contains a little peroxide, some polishes to remove surface stains, and fluoride. You can also look for abrasives that remove surface stains like calcium carbonate, dehydrated silica gels, hydrated aluminum oxides, magnesium carbonate, phosphate salts, and silicates.
Cost:
$5 for whitening toothpaste; $10 for whitening kit with trays or strips with very little peroxide; and up to $50 for sensitivity strips or a kit with a higher concentration of peroxide.



RECENT BRIDAL VIDEOS