Posted by Total Beauty 11/23/11 at 12:56PM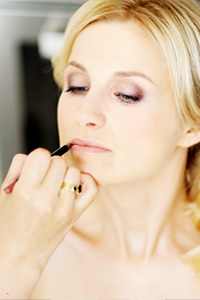 By Kristin Kane
Baffled by the quotes you're getting from makeup artists for your wedding day? I hear you -- how they come up with their prices can be as confusing as those brides who don't put the Chicken Dance on their wedding reception do-not-play list. (If you haven't taken care of that yet, do it now -- I'll wait).
Whether you're new to getting your makeup professionally done, you're on a tight budget, or both, you may feel that the prices are a little steep. And your fiance piping up ("Why does something you'll be washing off in a few hours cost so much?!") likely isn't helping.
I'm sure you're dying to ask why the heck her rates are so high and whether you can get a lower price somehow. But that's not exactly the easiest thing to do when you're sitting face to face with the makeup artist herself. That's why I found a couple professionals willing to spill the answers to your most pressing questions.
Awkward Question No. 1: Makeup artist prices are just picked out of thin air, aren't they?
"Some people sure think so," says Lyndsey Kane, owner and makeup/hair artist of LAKEnterprises, who serves the New York tri-state area (and also happens to be my sister, which makes her the optimal source for tell-it-like-it-is info). "However, makeup artists' prices are generally set to account for time spent with a client, experience and education, product, and travel time. We incur costs to provide a service, so we must factor that in addition to our own compensation."
No. 2: My cousin in Nebraska got her wedding makeup done for $50. Why am I getting quotes of $100+ from artists in New Jersey?
Artists look to keep their prices in line with their local competition, and geography is a strong guiding force of that, says Tara Fontana, owner and makeup/hair artist of Fairytale Hair and Makeup (serving California, Las Vegas, Central Florida, and Hawaii). "If you're given a quote that is wildly cheaper than those you got from several other artists, it may be worth your pause," she says. "Like anything else, you get what you pay for. If you're still considering the artist, be sure to see work samples and don't be afraid to ask for references of past clients."
No. 3: Why do I have to pay full or almost full price just to get my trial makeup done?
You may be looking at this as just a test drive, but your makeup artist very much considers this the real deal. She is putting in her time and effort (not to mention using her pricey products) to complete multiple looks for you. You get compensated for the time you spend working, right?
No. 4: I've heard that some makeup artists quote you one price then charge you another on the day of service -- what gives?
That bridesmaid of yours who would be late to her own funeral? Your uber-fussy mother-in-law who is so indecisive you can guarantee she'll change her mind about what she wants done no less than 14 times before show time? It's "surprises" like these that make the rates go up.
"Extensive time spent waiting around or the need to rush might end up costing you extra," says Kane, "And deciding that you want additional services -- such as adding airbrushing or false lashes the day of your wedding -- will usually require a fee change." Remember, extra time spent with you and your bridal party is time that your makeup artist could have dedicated to another paying client.
Fontana strongly recommends getting all of the details of the services you're booking, including prices, outlined in a contract. Ask how late you can make changes without a penalty so you don't have any surprises either.
No. 5: I have a black belt in negotiating ... why can't I haggle for a lower rate?
I bet you got a mean price on that purse, girl, but haggling with a makeup artist for a rate that is far from her set fee is not only a lost cause, but insulting.
Both of our pros agree that they set fair prices from the start and don't waiver too much from them. "I'm not trying to rip someone off -- just stay competitive and busy," Fontana says. "If I drop rates too low for one bride, word will spread and I will have to do it for all."
Still, Fontana and Kane note that makeup artists know that brides are on tight budgets, and many may be willing to work with you by striking special offers. For example, you might get a discount if you book makeup for five girls or more (however, you shouldn't expect more than 10 percent off). Or in place of a discount, an artist may throw in extras, like that false eyelash application she initially planned to charge for. It doesn't hurt to (nicely) ask, but keep in mind that your makeup artist has to make a living, too.
No. 6: Can I get a cheaper price with an in-salon makeup artist over one who comes to me?
Maybe, but it's not likely. You will generally find salon makeup artists' prices to be on par with those of freelancers, says Fontana. Also, because in-house artists typically work for a boss other than themselves, they may be less amenable to some of the special offers mentioned earlier, says Kane.



RECENT BRIDAL VIDEOS