Posted by Total Beauty 05/25/12 at 12:29PM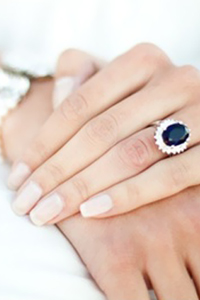 A lot of brides have every last detail -- from the color napkins they'll use to the exact shade of lipstick they'll wear -- planned months before the wedding. But there is one detail that almost everyone forgets to pre-plan: nail polish. Sure, almost every bride schedules a mani/pedi the morning of her nuptials, but how many think about the shade ahead of time? Most just opt for the default classic nude and sheer pink polishes.
This long tradition of transparent fingertips makes sense. The big day is all about you . . . and your dress. Distracting nails take the focus away from your gorgeous white gown, right? Not necessarily. Your painted fingertips are small, hidden by a bouquet most of the celebration, and only really stand out in pictures.
When I tie the knot, I want my nails to be my "something blue." Apparently, I'm not alone. Recently it seems many brides are giving wedding day manicures a much-needed update. Women have ditched the standard milky sheen for a more playful teal accent nail or lace decals.
Don't know which style is right for your big day? I rounded up the latest bridal nail trends from Pinterest and chatted with celebrity nail stylist Jenna Hipp (clients include Kerry Washington and Jessica Biel) about each one so you can decide which manicure works for you.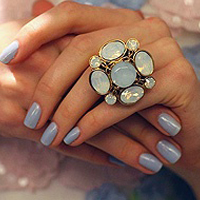 Blues:
Like my "something blue" idea? If a complete robin's egg blue manicure is too bold for your taste, Hipp suggests, "Adding one baby blue accent nail or even have your bridesmaids paint blue accent nails." The cheerful polish is perfect for a beach-themed wedding, which already includes ocean shades in the color scheme.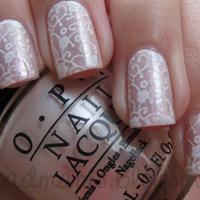 Lace:
When it comes to wedding gowns, there is one fabric that never goes out of style: Lace. Detailed and romantic, the delicate thread design can also be included on your fingertips. This style is subtler than nail bling yet more eye-catching than a simple nude manicure. Adds Jenna: "Think about what style will look good on your honeymoon too, cause you will not want -- or have time -- to change your nails before you jet off."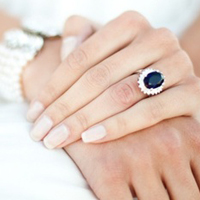 Nudes:
Thanks to Kate Middleton, milky fingertips are still extremely popular with brides. "There are tons of new nail foundations, so it's easy to customize nude nails that are perfect for your skin tone," says Hipp. She recommends HIPPxRGB collections, which features a spectrum of eight flesh-tone tints for every complexion. "Nude nails are great because if the polish chips it won't be as noticeable," says Hipp. "Plus, it really lets your ring shine."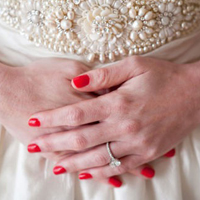 Reds:
Throwing a retro-themed celebration? Opt for a scarlet manicure. "Red nails have a vintage vibe to them," says Hipp. "It is very Mad Men-esque." The cherry-colored polish will really pop in photos if paired with red rose bouquets.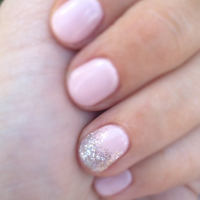 Petal pinks:
If you always imagined looking like a princess on your big day, barely-there pink lacquers are definitely for you. "Delicate pinks have been, and will still be, the go-to bridal nail polish color for a long time because they are ultra-feminine," says Hipp. For a dash of fairy tale flair, add a sparkling top coat on your ring finger.



RECENT BRIDAL VIDEOS