Posted by Total Beauty 09/18/12 at 02:03PM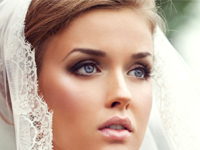 By Emily Kate Warren
If there's one thing nearly all brides want when planning the makeup for their big day it's long, beautiful lashes. In fact, the demand for fabulous fringe became so high that I got certified to do lash extensions to please all my bride clients, But luckily for all you DIY brides, there are tons of other faux lash options that don't require a license or a pricey application.
For those of you who want that gorgeous Kardashian fringe -- but only for your wedding day -- take a peek at my easy lash how-tos. With practice, I promise your lashes will look perfect at your nuptials.
Individuals
Ardell Duralash Flares
, $3.49
Individual, knot-free lashes are amazing because you can adjust your lash line to be natural or super full. They do however take practice since you have to line them up to ensure they don't twist in a funky direction and look all spindly. Want the "Dash Lash?" Alternate medium and long length lashes, spaced about 1/8-inch apart. Like a gradation? Layer shorts in with mediums and a few longs at the outer corners. Or go the distance and place either short, medium or long clusters between your natural lashes from corner to corner. The key to nailing these babies is to practice and use tweezers and a magnifying mirror. Here's how: 1. Choose your preferred lash length (short, medium, or long). 2. Use tweezers to grasp the cluster by its middle and dip the root into a teeny, tiny bead of glue (I prefer black-toned glue -- it helps beef up your lash line even further). 3. Looking down into a magnifying mirror, open the tweezers to release the lash onto your natural lash line. Repeat until you get the amount of fringe you desire. Just make sure to match your opposite eye so one lash line doesn't look heavier than the other. 4. Allow to dry for at least five minutes, then apply waterproof black mascara to your fringe. Examine in a mirror and if you see any small gaps of skin peeking between, fill in with a fine-tipped, black liner pen or pencil.
Half strip
Ardell Accent Lashes
, $3.49
Not that I'm playing favorites, but this is the group I use most often. These are pretty foolproof because they don't extend all the way to your inner corners so there's no lifting needed and they're already graded from short to long so you just place the half strip from mid eye to outer corner in one sweep and thus, they look incredibly natural. Here's how to apply them: 1. Use both thumbs to pull the half lash strips down and away from the backing. The equal pressure and force from your thumbs will keep your lash strip from breaking or twisting. 2. Squeeze a dot of glue on the back of the hand you'd prefer
not
to use when applying. Allow it to set for about three minutes and get a little tacky (this helps the lashes to bond to your lids easier since the glue isn't quite as wet). 3. Use a pointy-ended cotton swab to drag a minimal amount of glue along the lash band. 4. Looking down into a mirror again, place the now tacky half strip from the middle of your upper lid to the outer corners, adhering the glue to the tiny ledge of your upper lash line that begins to roll under, right where your natural lash roots sprout out of. 5. Use your thumb to push the false lash tips upward, into the lash ledge and your index finger to press the lash ledge into the band. This gentle pinching motion will ensure that your lashes adhere unnoticeably. Repeat step four from the individual lashes instructions above.
Full strip
Ardell Invisibands Demi Wispies
, $4.99
For those wanting a gigundo impact, consider a full lash strip. Note that you may need to trim one or two falsies from the band though because one full lash strip size does
not
fit all. Remove the lash strips from the backing (as detailed in the Go Halfsies instructions above) and compare the width of your natural eye shape to the width of the full strip. Trim as necessary from the outer edge of the lash strip. I do it this way because you want your inner lashes to be the shortest length -- since that's they way they are naturally -- and they exist this way already on the band. It will be more comfortable and I promise, you'll still get length on the outer corners. Now, here's how to DIY: 1. You basically need to follow all the same instructions as in the half srip directions. However, with a full lash strip you'll need to adjust your gaze to keep your lid from crinkling at the inner corners so the bands can easily adhere. 2. Once you've got the glue on your band, starting with your right eye, look down into a mirror and gaze to the right. This will smooth out crinkles at your inner corner so you can lay the lash band onto your lash ridge. If you can't see yourself easily in the mirror, you may need to adjust your face (but not your eyes) until you can see the eye you are applying to. 3. Lay the inner corner of the false band about 1/16th of an inch to the right of your tear duct. This is very important so you don't have lifting throughout the event. 4. Use the gentle pinch from step five above in the half strip method to bond that strip to your lash ledge. 5. Repeat on your left eye, and reverse the direction of your gaze (in other words, look down into a mirror and gaze left). 6. Follow step four in the individual instructions above.



RECENT BRIDAL VIDEOS