Posted by Alison Rowe 11/11/10 at 03:02AM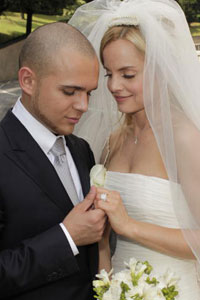 Every year, a few weeks after fashion week wraps up, the bridal shows roll around and, just like death and taxes, there are a few things that you can count on seeing: white, tulle and strapless wedding gowns. Gone are the days when getting married meant you had to be more demure and covered up, nowadays it seems nothing says, "bride" like bearing your decolletage. Classic girls like Chelsea Clinton and Hilary Duff embraced the trend, and Mena Suvari even went so far as to wear a strapless gown for her wedding in Vatican City. Yep, that's right, visible decollete in Vatican City. Holy cleavage Batman -- who knew that was allowed? Sorry, we couldn't resist.
Whether you deem that a fashion faux pass or not, this strapless trend isn't going anywhere fast, which begs the question, "How do we get the best darn looking decolletage possible?" We spoke to New York City dermatologist Dr. Patricia Wexler to find out what your pre-wedding beauty routine should include -- with this area in mind.
We all have a skin care routine for our face, but we generally forget about our chest and neck. Despite being so close together, the skin on these lower areas is a little different, says Wexler.
The skin here is extremely delicate. It's thinner, has less oil glands and is more sensitive to sun damage, she says. As we age our skin produces less elastin (responsible for tone), less oil (lubrication) and the cell turnover slows, which, combined, means our skin looks dryer, creped and more wrinkled. We also get pigmentation irregularity, says Wexler -- things like brown or red spots and lines in the shape of a V. That all sounds potentially depressing, so clearly we need to start looking after our decollete and neck when thinking about our wedding beauty regimen to hold back the wrinkly hands of time.
First of all, let's talk prevention. Start by using a sunscreen everyday, says Wexler. This isn't going to give you back the skin you had when you were a kid, but it will help slow down the aging process.
Posture can also play a part with wrinkles in your neck. How are you sitting now? Are your shoulders slightly hunched and is your chin down? Reach a hand up and feel the creases -- you can tell where the wrinkles will be. Try to be more aware of keeping your head and chin up and shoulders back.
Next up, treatment. Use products specifically designed for the neck and chest to get the most benefit, she says. Look for ingredients like Hydroquinone, retinol, antioxidants, MMPI 20 and peptides. These help treat dark spots, combat aging and increase the firmness of the skin. Make sure you exfoliate, too -- this increases cell turnover and makes skin look brighter. Remember, when applying anything to your face, neck or decolletage, use a light touch and avoid tugging or pulling on the skin.
Wexler also suggests the use of an at home LED as part of your wedding beauty prep (try the
Tanda Regenerate Anti-Aging Light Therapy Device
, $250). It treats your skin from the inside out using light therapy (not laser) so it won't cause irritation (aka down time).
Products to try: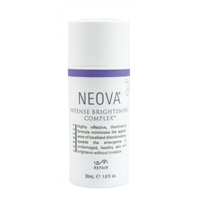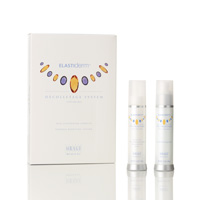 Neova's Intense Brightening Complex
, $49, works on hyperpigmentation for a more even skin tone.
Obagi ELASTIderm Decolletage System
, $130, helps restore elasticity, ups collagen production and battles hyperpigmentation.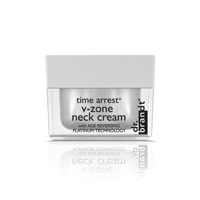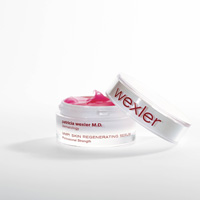 Dr. Brandt's Time Arrest V-Zone Neck Cream
, $60, firms, smoothes and lifts the skin on your neck and decollete.
Patricia Wexler M.D. Dermatology MMPi Skin Regenerating Serum
, $55.00, firms skin and reverses lines and age spots.
By Alison Rowe



RECENT BRIDAL VIDEOS