Posted by Total Beauty 09/29/10 at 02:57PM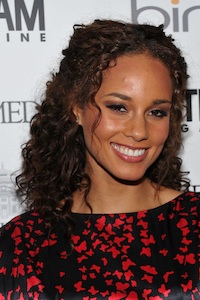 Not everyone can get married on a fabulous island in the Mediterranean -- yep, looking at you Alicia Keys. I mean, if your fairy godmother could wave her magic wand and make money grow on trees, then it might be an option, but sadly it seems that unless you're a card-carrying Disney princess, she likely won't show. Not to worry, you didn't want a pumpkin-style coach anyway, right?
Whatever your budget will stretch to, whether it be your own backyard or a fabulous destination wedding, it seems most brides want to get married on a sunny spring or summer's day. Of course, that means you'll also deal with the sun's hot, melty rays, which can equal a bridal makeup disaster. But have no fear, we spoke to Nancy Glass, Clinique Makeup and Skin Care Expert, to find out how to beat the heat
and
keep your bridal makeup looking gorgeous. She recommends following these steps:
Step 1:
Skincare, says Glass. Most skin feels oilier in the warmer climates, and oil liquefies due to the heat, so try switching to an oil-free moisturizer for your big day. (Try
Olay Total Effects Cooling Hydration
, $18.99.)
Step 2:
"Sunscreen is an absolute must," she says. It doesn't matter if the rest of your wedding makeup contains it or not, "sunscreen should be applied generously under your foundation to ensure the proper level of protection." Try
SkinCeuticals Sheer Physical UV Defense SPF 50
, $30.
Step 3:
Apply a primer before your bridal makeup. "It will make the surface of the skin smooth for a more flawless application" -- it also helps increase the wear of your wedding makeup. Try
Mally Beauty Debuts Perfect Prep Poreless Primer
, $35.
Step 4:
Tinted moisturizers are great for everyday, but if you want to look polished in your wedding photos, use full-blown foundation instead. "Use the right shade and you'll only need to apply it where the skin is most uneven. Try one with a photo finish for the most natural look," says Glass. She recommends
Clinique Superbalanced Makeup
, $21, which is great for warmer, outdoor weddings because it "absorb[s] excess oil and add[s] hydration where the skin needs it, keeping you looking flawless," she says.
Step 5:
Add a subtle boost of glow and warmth to your skin with a long-lasting bronzer (try
CARGO Water Resistant Bronzer
, $28). Apply a small amount with a bronzer brush -- the longer bristles help to scatter the color for a more natural allover application. Or apply it with a blush brush by sweeping it up along the cheekbones, finishing at the temple area. "The motion should follow a 'C' shape," says Glass.
Step 6:
"You'll definitely want a waterproof mascara, too. I like cold-water resistant formulas because they hold up during heat, humidity and tears, but come off easily with warm water," says Glass. Try
Becca The Ultimate Mascara
, $24.
And finally, dewiness is inevitable, so have some blotting papers handy (have a bridesmaid carry them along with your lip gloss or lipstick). These soak up excess oil without leaving cakey makeup behind. Try
Boscia Fresh Blotting Linens
, $10.
By Alison Rowe



RECENT BRIDAL VIDEOS