Posted by Total Beauty 09/24/10 at 11:51AM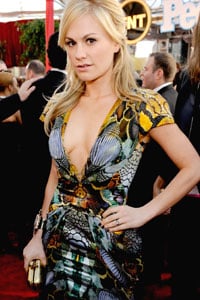 There are times in life when everyone pulls out all the stops to look their best: A school reunion, any event where you risk running into an ex (yours
or
his) and pretty much all of your wedding-related events and the honeymoon. If you're Anna Paquin, and practically work butt-naked everyday, the rules might be slightly different, but you get the idea. Being the jiggle and love-handle-free girl that she is, it's doubtful she worried too much about looking good on her wedding night or honeymoon.
So, how does she do it and how can we get it?
Well, exercise for one. (Big surprise there, right?) "Anna works really hard to look the way she does," says her trainer, and owner of
High Performance NYC
, Clay Burwell, "She always gives 110 percent."
"For the best results, switch up the exercises. Swim one day, do yoga the next and weight training the next. Keep each exercise 'new' to your body," he says. This will help you yield the best results -- and prevent you from getting bored.
Nutrition's important too, says Burwell. "Get most of your calories in the morning and very few at night. (An ideal breakfast is a two or three egg spinach omelet, half a pink grapefruit and a small bowl of oatmeal.) "Banish bloat by keeping things moving through your body," he says. (Read: Fiber and a gallon of water a day.)
Have a few specific body parts you want to tone up? Here's what Burwell suggests:
Arms:
"Boxing is great for people that want to tone without bulking up. It's a good cardio workout, too." Invest in a fun video you can do at home or check out a class at your gym -- if you have a membership.
Abs:
"Mix core strengthening exercises like pilates with crunches. The main thing though is getting rid of body fat. A lean tummy is a flat tummy," he says.
Butt:
"Run stairs. Find a long set -- stadium stairs are perfect -- and keep going." Have a high school stadium near by? That's all you need to get your body in great shape because stairs are also a great form of cardio.
So what can you do
besides
exercise? A sneaky spray tan can help. Natalie Cupid, head technician at Sundara Airbrush Tanning says, "Our airbrush method is specifically contoured to an individual client's body shape. We are able to apply more, or less, solution to certain areas to create the illusion of a toned, slender look -- it can essentially mask the appearance of cellulite." Umm ... yes please. Check out your local listings for airbrush tanning pros in your area. Or try spraying yourself at home -- watch this video for
self-tanning tips
.
Lastly, don't forget about your posture. Standing up straight with your shoulders back and a smile on your face, makes you look taller (thinner!) and more confident -- all the better for your wedding day (and night).
By Alison Rowe



RECENT BRIDAL VIDEOS