Posted by Total Beauty 09/22/10 at 06:27PM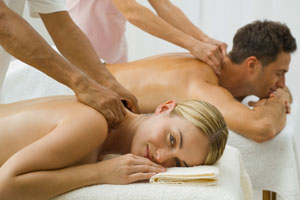 Planning a wedding is a stressful thing. Period. So it's only right that we relax and pamper ourselves with a few tension-reducing treatments as part of your wedding beauty prep. (Post wedding indulgences are also perfectly acceptable BTW -- just ask Carrie Underwood and her beau Mike Fisher, who honeymooned at Le Taha'a Island Resort & Spa in Tahiti. Sigh ...) We asked Kenneth Milstead, lead esthetician at Bliss Hollywood, for a few pre-wedding beauty treatments that aren't just relaxing, but make you look amazing, too. Oh, and feel free to continue these treatments as a Mrs. ...
Face:
Your wedding is the perfect excuse to get regular facials. Start six months out, says Milstead, and "make sure your first one includes microdermabrasion followed by an enzyme peel -- this ensures the facial 'slate' is clean." Besides making your skin radiant, this deep exfoliation means you'll get more out of your regular skin care products. (They don't have the extra layer of dead skin to contend with.) He recommends a monthly facial leading up to the wedding (stopping two weeks before), and adding in a peel or a microdermabrasion every other visit to stay free from blemishes and stress-induced fine lines.
Body:
Schedule regular massages, says Milstead. Besides loosening all those knots and feeling ahhh-mazing, they will increase circulation, lower stress, improve sleep patterns and help detox your body. 'Nuff said.
For the ultimate 'please touch me,' silky smooth skin, try a body scrub pre-wedding beauty treatment. Lie back and relax while you're buffed and polished from neck to toe (though this doesn't sound
that
relaxing, it actually is). Not only will it give you super soft skin, it'll help stimulate your circulation too (reduction in cellulite, anyone?). And, an exfoliated body is a 'must' if you plan to use a self-tanning product -- you'll get a much more even application. Scrub your body down once or twice a week between treatments too, says Milstead, and pay close attention to 'problem areas' like elbows and knees. (Bust out scented candles and mood boosting music for a more spa-like experience.) He recommends staying away from loofahs, which can be a breeding ground for bacteria -- yuck -- and going for a basic scrub instead. And, always follow your scrub with your favorite body cream to keep skin hydrated.
If you're getting down to the wire and still have concerns about getting into your dress, you can try a pre-wedding beauty treatment designed to reduce and refine those 'larger than life' areas. Bliss has the
Quadruple Thighpass
and the
The Love Handler
-- fairly self-explanatory, no? Or their
Fat Girl Slim
treatment, which is more of an all-over "detoxifying, circulation-stimulating, body-toning treatment" and claims to be a "savior" for anyone trying to "slip into anything curve-hugging." Many other spas have very similar treatments -- so scope out your local spa's menu for details. Hey, not many of us can turn down help like this.
Not into doing the whole spa bit? Create your own pre-wedding beauty treatments at home by trying these
natural homemade beauty recipes
.
By Alison Rowe



RECENT BRIDAL VIDEOS