Posted by Alison Rowe 06/08/11 at 05:18PM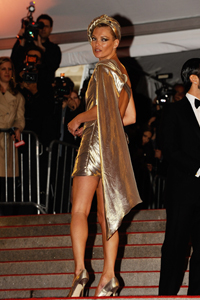 Engaged model Kate Moss burst on to the scene in her Calvin Klein jeans (and not much else) in the early '90s, re-popularizing the iconic waif look. Her slender, slip-of-a-thing genes seem to have ensured that she can still rock a pair of short shorts with the best of them -- and with nary a dimple of cellulite in sight. Sigh ... is life really just this unfair, or can we have amazing legs too? Yep, we can. Here's how.
Tone: Work those muscles. "I like quick and efficient circuit training," says David Kirsch, fitness and wellness guru. "[Try this] 'butt blasting' circuit with 15 to 20 repetitions of each. Aim to repeat the circuit 2 to 3 times."
Platypus Walk
1. Start in a plie squat position, with your hands behind your head and your thighs parallel to the ground
2. Waddle forward staying engaged in that plie squat. Now reverse. (Make sure your knees stay out and your weight stays back in your heels throughout the movement.)
Sumo Lunges
1. Stand with feet slightly wider than shoulder width apart.
2. Leading with the knee, lift your right leg and move it in a circular roundhouse.
3. Land out to the side, wider than you started and immediately squat down, channeling a real sumo wrestler.
4. As you come out of the squat, lift your right leg and kick out, leading with your heel. (Each element should flow smoothly into the next. There are no breaks in a sumo lunge.)
Reverse Crossover Lunges
1. Stand with feet shoulder width apart, hands on your hips.
2. Lunge your right leg diagonally behind you, planting your foot at an 8 O'clock position.
3. Return to the start position.
Repeat on the left.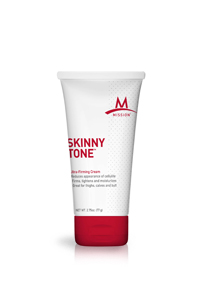 Hide the cellulite: "Cellulite is more common in women and generally appears in the abdomen, lower limbs and pelvic region," says Daniela Pranjic, The Yhi spa Manager at Paradisus, Palma Real. "Hormones, genetics, diet, lifestyle and [even] clothing are [all contributing factors]." You can't really get rid of cellulite, but you can lessen the appearance of it. She recommends lymphatic drainage massages to remove toxins from the body, exfoliation and hot and cold treatments to increase circulation (she suggests doing this in the shower), applying cellulite reduction creams using a massage technique (try
Mission Skinny Tone
, $14.99), and of course, a healthy diet with lots of water.
"As cellulite is not a medical condition there is no way to prevent it, but the
appearance
can be adjusted through our lifestyle, reducing stress and keeping off excess pounds," says Susan Wheeler, Spa Director at The Equinox Resort in Manchester Village, Vermont.
Tan: Another great 'mask' for cellulite is a golden glow.
See how to get a safe one here
.



RECENT BRIDAL VIDEOS