Posted by Total Beauty 09/24/10 at 01:51PM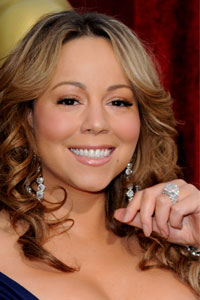 So you don't have a whopping 17-carat diamond engagement ring like Mariah Carey (I mean, c'mon, you can practically see that thing from space), but that's no reason to slack off in the manicure department. You're going to be flashing that baby to everyone, so it's only right to keep your hands looking their very best. We spoke to nail guru Michele Pierno of Kiss Products to get the low down.
Shaping:
First she recommends you cut and/or file your nails to the length and shape you want -- the 'squoval' is popular right now, a little bit square, a little bit oval. (If you're using a rough-grit nail file, only file in one direction otherwise you may damage your nails.)
Next, use a fine-grit buff block to
gently
remove ridges and any stains from the nails. This also provides a matte surface -- all the better for your color to stick to.
Cuticles:
Some people like to soak before they use cuticle oil, some don't. (Olive oil is a great substitute if you don't have cuticle oil BTW.) If you fall into the second group, don't over soak your nails -- a few minutes is all you need. Skin and nails absorb water causing them to plump up, which makes your polish more likely to crack and peel once your nails have dried and shrunk back.
Once the cuticles are soft, we come to the whole "cut, or not to cut" debate. Cutting can weaken the nail bed and if you over-cut, you can be left with an uneven finish as your skin dries out -- kind of counterproductive. If you'd rather not cut, just use a manicure stick to gently push your cuticles back.
Exfoliate your hands, rinse, dry and lotion up. Wipe your nails with polish remover so they are squeaky clean before moving on to polish -- you want to get rid of any oil so your polish goes on evenly, and stays on.
Polish:
"For the best results, always use base coat, two coats of polish and then a top coat," says Essie Weingarten, founder and president of Essie Cosmetics. A base coat is like foundation for the nails, she says. It helps polish go on smoothly, adhere properly and prevents stained nails.
To get an even color, "begin with a "stripe" down the middle, then another down either side of the nail. To help the polish set, and avoid chipping, wait two minutes between each coat of polish including the base and top coat, she says."
To prolong your manicure, keep your hands out of water as much as possible, apply topcoat every other day and avoid using your nails as "tools", advises Weingarten.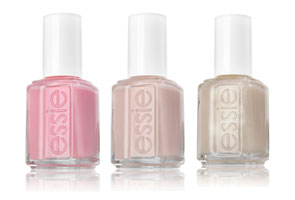 Check out three of Essie's top-selling bridal shades this season:
Essie Nail Polish in Petal Pink
,
Essie Nail Polish in Show Me The Ring
,
Essie Nail Polish in Pillow Talk
, $8 each.
Can't decide on the perfect shade? Try on a bunch using OPI's iphone and ipad app (it's free). You can customize the skin tone and laquer colors so you'll know how it will look before you get to the salon.
Complete your budget savings and have pretty toes to match your nails by checking out this
do-it-yourself pedicure guide
.
By Alison Rowe



RECENT BRIDAL VIDEOS