Posted by Total Beauty 04/11/12 at 04:30PM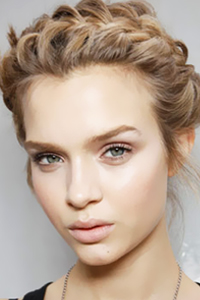 By Jennifer Tzeses
Fashion runways are often more about art to admire than styles to wear -- hair and makeup included. However, this spring's shows debuted a ton of wedding-worthy hairstyles so pretty, they'd be perfect for any bride. Here's how to recreate them, courtesy of some of the best hairstylists in the beauty biz: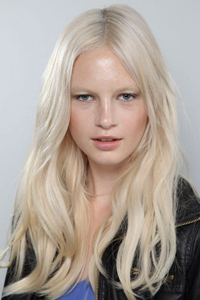 The casual wave
Featured in shows such as Theyskens' Theory, this loose, bendy style looks effortless and DIY. Celeb hairstylist Oscar Blandi shares how to do it: Apply a volumizer, like Oscar Blandi Hair Lift Instant Thickening & Strengthening Serum, $30, to the roots and blow dry loosely with a round brush. To enhance hair's smoothness, make sure the nozzle is pointing in one direction and move it from roots to ends. Using a curling iron, curl random sections, leaving some straight. Bend each section around the iron, hold for 10 seconds, drop it and let it cool.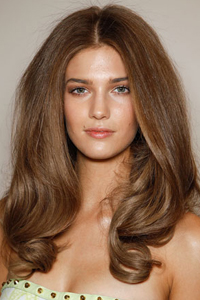 The big blowout
Seen at shows like Versace, this style is all about voluminous, bouncy hair that could effortlessly go from day to night. To recreate, follow these tips from L'Oreal Paris consulting hair expert, Johnny Lavoy: Start by applying a volumizing mousse such as L'Oreal Paris EverStyle Volume Boosting Mousse, $6.99, to wet hair. Blow dry in sections using a round brush. Once the hair is dry, set it in large Velcro rollers. Quickly heat them with your blow dryer. After the rollers have completely cooled, take them out and brush hair upside down, then right side up. Create a center part and finish the look off with a strong hold hairspray like L'Oreal Paris Elnett Satin Hairspray Unscented, $14.99, for a long-lasting hold.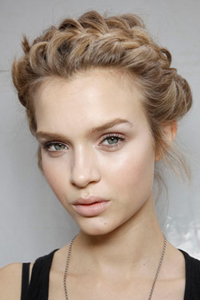 The braided crown
This woven plait seen on the runway at Valentino looks a lot more intricate than it actually is. Matrix Artistic Director Ammon Carver shared the easy steps to get it down pat: Start by French braiding just above one ear, adding hair from the back of your head as you work along the front hairline. Continue braiding all the way along the frame of your face. Secure with a rubber band, tucking the ends under and pinning. Shake some Matrix Design Pulse Mega Dust, $15, lightly over the entire braid and gently pull pieces to give the style that effortless vibe.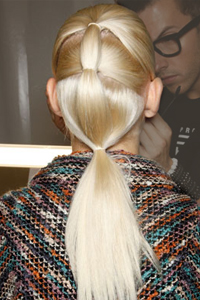 The ponytail with punch
Forget about the plain old pony; this season's tails have something extra special, like this triple-tied style from Herve Leger. Try these tips from Johnny Lavoy to recreate: Blow dry hair straight using a large round brush or paddle brush. Create your first ponytail by pulling front strands straight back and secure with an elastic that matches your hair color. For the next ponytail, grab two thin sections, one from near each ear, and secure. Gather all the hair that's left and secure at the nape of your neck.



RECENT BRIDAL VIDEOS