Posted by Total Beauty 03/15/12 at 11:11AM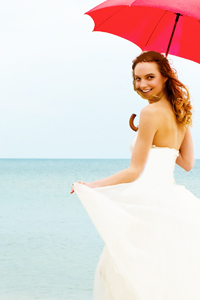 By: Kristina Grish
Most brides spend the week before their wedding obsessing over flowers and seating arrangements, but I spent mine glued to The Weather Channel. And it wasn't until the morning-of, when the anchor might as well have said it would
monsoon
, that I freaked out but forced myself to handle it with grace. So I moved the cocktail hour inside, bought Wellies and oversized black umbrellas, and most importantly, made sure my makeup artist had rain-proof products. My train might turn black and my hair might frizz, but I was determined to maintain face -- literally.
Since you can't control the heavens, take whatever precautions you can to guard against runny foundation, smudgy eye makeup, and a ghoulish complexion. According to Mary Guthrie, a Chicago-based celebrity makeup artist who's worked with brides for eight years, the following four tips will help you preserve your look, as you dart from one enclosed space to the next. And if you do get caught in a real soaker? "Pat or blot your face dry," she says. "Never wipe!" And don't forget, they say rain on your wedding day is good luck! Five happy years later, I can't say I doubt it.
Tip No. 1: Wear the Right Foundation
Guthrie says the wet stuff will make traditional foundation run since it's not water-resistant, so the best way to keep this from happening is to use a lightweight, hypoallergenic, silicone-based foundation (if you hire a makeup artist, ask her to apply this via an airbrush to ensure a smooth, even finish). "What's great about a silicone base is that it's moveable," Guthrie explains, "so if it gets wet, you can just touch it up with a foundation brush. It also gives the skin a glowing finish, and will absorb any oil that may appear on the face later in the day. For most people, it should last about four to six hours." Add a translucent powder to help set your makeup, and pull it out a few hours later for touch-ups (a compact can make it look "splotchy" if it's not the right shade).
Tip No. 2: Use Waterproof Mascara and Eyeliner
If waterproof eye products are good for tears, you bet they're a must for rain. Guthrie says fats, oils, or waxes are what make waterproof mascara moisture-resistant -- but these ingredients can also make it clumpy, if it's applied too slowly and/or in dry layers. "You can avoid clumps by applying thin coats, with swift sweeping motions, from inner to outer lash," says Guthrie. "The faster the application, the better the results." She suggests
Lancome Hypnose Waterproof Mascara
, $26, and
Almay One Coat Nourishing Waterproof Thickening Mascara
, $4.96. Don't forget the waterproof eyeliner! "It glides on smoothly, stays in place without smudging, and lasts a long time," she says, suggesting
Stila Stay All Day Waterproof Liquid Eyeliner
, $20, and
Smashbox Jet Set Waterproof Eyeliner
, $22.
Tip No. 3: Use Earth Tones to Contrast the Blues and Grays
Rain clouds don't exactly warm-up your complexion, so on rainy days, think earth tones. "Gold, coral, bronze -- these colors contrast all the gray and blue tones around you since they're on the opposite end of the color wheel," says Guthrie. "They'll bring light to your face." And while it's raining, you shouldn't necessarily run with the dewy look if it wasn't part of your original plan. If anything, this is a great time to go for matte details, since everything else around you will be wet!
Tip No. 4: Carry Touch-Up Makeup In Your Bag
Guthrie suggests a makeup check every two to three hours. For touch-ups, pack a tote with the essentials most marred by rain: powder, mascara, and blush. And while rain doesn't directly affect your mouth, nothing revives a look like fresh coat of lip color or gloss. Good as new!



RECENT BRIDAL VIDEOS