Posted by Total Beauty 05/19/13 at 09:57PM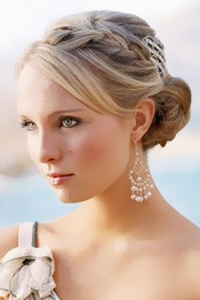 By Jennifer Tzeses
Just the other day, I attempted to toss my hair up in a glam ponytail (think Reese Witherspoon at the 2011 Oscars). After carefully curling, teasing, wrapping, and pinning each strand around an elastic, my hair looked great.
And then my masterpiece was foiled, not by the slip of my hand, but by my hairspray.
In an attempt to get the lush curls I created to stay put, I inadvertently straightened them with a too-strong spray and was left with a stiff, sticky mess, which I had to completely redo. The moral of this story? Using the right styling products is crucial to keep any hairstyle intact. And this is especially true for big events like your wedding.
So how do you know which products to use for your look? Follow this advice from celebrity hairstylist, Ramsell Martinez. He gave me the inside scoop on the most common styling products and when to use them. Now you won't have to worry about ruining your bridal hairstyle minutes before walking down the aisle.
Sea Salt Primer
When to use it:
beachy waves, tousled updos
When to skip it:
sleek or structured styles, softer curls
Sea salt primer is the secret behind those coveted waves that seem to come straight from the beach. Your hair looks lush and wavy after spending time in the surf and sand because of all the sea salt in the air and water, which brings out your natural texture and makes it even better. You can replicate this look with a bottled version, like
Paul Mitchell Awapuhi Wild Ginger Texturizing Sea Spray
, $18.78. Just spritz it on dry hair and scrunch to get the waves you want.
Gel
When to use it:
polished updos, sleek styles
When to skip it:
loose waves
When you need maximum staying power for a slicked back updo like a polished bun, a gel will give you the strong hold required to keep flyaways at bay.
Ouidad Climate Control Gel
, $22, is a great choice for weddings because it has the ability to make even the shortest hairs stay put, but it won't look like you've applied shellac all over your head. Comb it through wet hair and let air dry in the bun formation for extra hold, or blow dry first for a softer look.
Mousse
When to use it:
defined curls
When to skip it:
sleek and straight styles
Defined curls are the hallmark of an Old Hollywood Glam-inspired style. Getting those ringlets to stay intact for hours can be a challenge, but not if you first prep them with mousse. Try
Tresemme Flawless Curls Mousse
, $3.49. This product maintains soft curls without that crunchy look or feel. Comb it through damp hair in sections, shaping curls as you go. Then use a diffuser to blow dry.
Relaxing Fluid
When to use it:
sleek, straight styles
When to skip it:
volumized curls or waves
Sleek, straight styles require some smoothing to tame frizzy hair and impart high shine.
Davines Defining Relaxing Fluid
, $25, calms unruly hair and leaves a high gloss shine without weighing hair down. Apply it to wet hair before blow drying.
Root Lifter
When to use it:
volumized styles
When to skip it:
sleek updos
If you want to make your wedding day hair over the top, a root-lifting product is a must.
Tigi Catwalk Root Boost
, $9, gives any hair type a Texas-style makeover. Use on towel-dried hair, mist into the root area, then blow dry.



RECENT BRIDAL VIDEOS