Posted by Total Beauty 03/22/12 at 12:20PM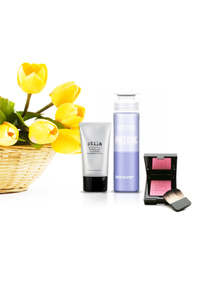 By Jennifer Tzeses
As a beauty writer, I'm privy to new and noteworthy products long before they hit store shelves (it's one of the best perks of my job). And I must say, this spring's lineup of newbies do not disappoint. Even better, so many seem to be perfectly tailored to brides. (Coincidence? Maybe, but I'll take it!) Though painstaking, I've narrowed down my new faves to a manageable collection of those that are the most wedding-day worthy. See what you should add to your day-of kit asap:
Physicians Formula pH Matchmaker pH Powered Blush, $12.95
This blush lasts up to 14 hours, which is a major plus given most brides I know barely remember their vows, let alone to reapply their blush on the big day. But the best thing about this cheek color is it's pH powered. This means that the color customizes itself based on your pH levels, so your cheeks will look naturally flushed in the prettiest way, and you don't have to spend hours finding that "perfect" shade.
John Frieda Frizz-Ease Sheer Solution, $9.99
This product is sheer (ha!) genius I tell you! Most de-frizzing products weigh down my fine hair, causing an utterly limp look. But John Frieda has just rescued my hair, and anyone else with fine, frizzy hair, with this serum. So should you decide to wear your hair down on your wedding day, this would be the product to use to keep your style light and bouncy all day.
Lancome Rouge in Love Lipcolor, $25
The name alone is worth wearing this lipstick on your wedding day, but what I love about it is the long wear formula (Lancome's longest yet) maintains its creaminess, unlike most other long wearers that dry out your lips. Plus, 21 shades mean you're bound to find your perfect match.
Stila HD Beauty Balm, $38
If you don't know about makeup primer, it's sort of like spackle for your face, basically filling in pores, lines, and wrinkles to pave the way for flawless coverage. This balm works in the same way. It might not be worth the effort on a daily basis, but for your wedding day, when the goal is to look as perfect as possible, I'd say it is.
ghd Peacock Collection, $225
A really good flat iron is like the MacGyver of beauty tools: it straightens, it curls, it adds waves, and all with the flick of the wrist. A good one doesn't come cheap, but chances are you've already forked over a chunk of your savings on your wedding dress, so what's a couple hundred more? You can't put a price on fabulous hair. Plus, unlike the dress, this is something you can use long after your wedding day. This one from ghd is amazing. The design is curved for easier curls and waves, it uses ceramic heat, which helps lock in moisture, and it comes in a glam satiny bag with a peacock design that doubles as a clutch (perfect for your honeymoon).



RECENT BRIDAL VIDEOS