Posted by Total Beauty 02/22/12 at 12:50PM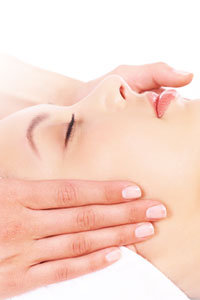 By: Kristina Grish
We know you've spent months fussing over wedding day details -- the right dress, a stunning bouquet, delicious menu, friendly seating arrangements. But despite these gorgeous efforts, all eyes will still be on
you
for at least five hours, so don't neglect the most important detail of all -- your skin. Enter the pre-wedding facial.
Why make the time? First, the emotional payoff is priceless. "Clear, beautiful skin is a confidence booster, especially when you want to look radiant, in person and in photos," says Claudia Colombo, esthetician and owner of Manhattan-based Fabula Skincare and Wellness. "You'll look back on your day and feel so relieved that you made the effort." Practically speaking, a good facial also primes the canvas, so to speak, to help wedding day makeup go on smoothly. Even if you don't have problem skin, professional treatments will enhance texture and tone. Here, a few tips to get your glow on.
Plan your treatments
At least three months before your wedding date, schedule a consult with a professional esthetician (if you don't already have one you trust, ask a friend or family member). Let her know that you're prepping for your wedding and when your big day is, says Colombo, so she can create a treatment schedule to help you reach your goals. Most likely, a series of treatments will be based on your skin's current conditions and what changes you're looking to make. "If you have acne, pigmentation, or severe sun damage, fine lines, or wrinkles, you'll want some time to get on a program, space out appointments, and structure the facials to give the skin time to benefit from them," she says. If you have relatively "normal" skin, the same three-month window applies, but you'll probably just need fewer sessions. If you're on a budget or your skin is relatively clear and free of blackheads and breakouts, you can get away with just two spaced-out treatments prior to your wedding day.
A final facial should be scheduled one week prior to the date. "It's a myth that you should have your last treatment weeks before your wedding," Colombo says. "If you're working with the right person, there will be no surprises. The skin looks best right after a facial."
Speak up
Though you might be embarrassed by your beauty habits, you must be upfront with your pro. Explain your current regimen and how much you're willing to do to make it better. "This will help her understand what she can suggest and how to make your goals realistic," Colombo says. Also, fill her in on how reactive your skin is -- like if you have allergies, sensitivities, etc. -- so she can give your skin the right active ingredients. Finally, be honest about your diet. "Most women go on pre-wedding diets, but aren't eating enough or the right types of foods to help their skin," she says, adding that brides should drink lots of water and eat plenty of fruits and veggies to keep skin looking hydrated and healthy.
Maintain the results at home
Colombo doesn't advise DIY facials for pre-wedding prep, since you won't get the same results or specific advice on your unique skin type. What you
can
do at home is establish lasting habits for after the wedding. These include removing all makeup before going to bed and using a gentle cleanser and moisturizer that contains antioxidants every day. Also, exfoliate two to three times a week, and consider an overnight cream that increases cell turnover. Keep it up and you'll look like a blushing bride long after the wedding.



RECENT BRIDAL VIDEOS