Posted by Alison Rowe 05/20/13 at 11:11PM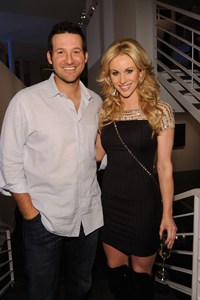 Any pageant queen worth her salt knows the benefits of a golden glow, and the soon-to-be Mrs. Tony Romo -- and sister of Chase Crawford -- Candice Crawford is no exception. Before her reporting days, she sashayed her way across many a stage wearing little more than a skimpy bikini and a killer pair of heels. We're assuming your wedding dress will give you slightly more coverage than a string bikini, but either way, the same rules apply; sun-kissed skin makes you look healthier, evens out blotchiness, minimizes the appearance of cellulite and even makes you look a bit slimmer.
But we all know that staying far away from sunbathing and tanning beds is a must, and that fake is
definitely fabulous when it comes to getting your tan on (there aren't many things you can say that about). So whether you're DIYing your golden glow, or choose to have it done professionally, Natalie Cupid, head technician at Sundara Airbrush Tanning in New York City shares a few rules of thumb:

Prep
1. First, you must exfoliate, she says. Getting rid of that top layer of dead skin cells will give you the most even color. (Pay special attention to rough areas like elbows and knees.)
2. Shave or wax beforehand and have your mani/pedi done first, too (rub Vaseline on your nails to prevent staining).
3. Skip the moisturizer on the day you plan to tan as it acts as a barrier between the tanner and your skin. Nix the deodorant, too -- just until you're dry.
4. For the most natural looking tan, choose a product that's only a couple of shades darker than your natural skin hue.



Products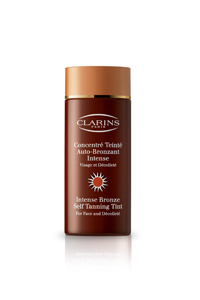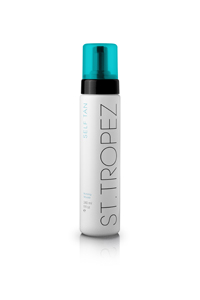 For self-tanning newbies:

Try a tinted formula so you can see where you've applied it (try Clarins Intense Bronze Self Tanning Tint, $32, which is great for use on your face and decolletage) or an easy-to-apply mousse formula like St. Tropez Self Tan Bronzing Mousse, $40.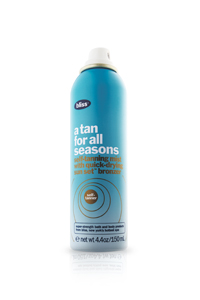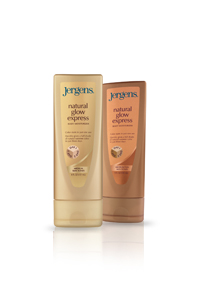 For experienced self-tanners:

Sprays like Bliss' A Tan For All Seasons, $36 are a great option if you're an experienced self-tanner -- this one is tinted so you can see where you've sprayed.


For a buildable tan:
If you prefer to build your tan gradually (and avoid streaky mishaps) try Jergen's Natural Glow Express, $8.99.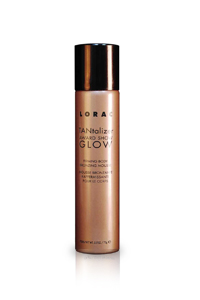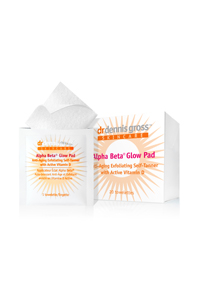 For a temporary, skin firming tan:

If an instant, yet removable tan is what you want, try the Lorac TANtalizer Award Show Glow, $32. It provides an instant red-carpet-worthy glow and has cellulite fighting ingredients.

For the honeymoon:
Tuck the Dr. Dennis Gross Skincare Alpha Beta Glow Pads, $32 in your luggage -- they're the perfect size (and liquid-free formula) to travel with.

Bonus Tips
Drying time differs for each product, but whichever one you use, you'll need to wait four to eight hours (on average) to shower in order for your color to fully develop. Apply it in the evening so you can allow the color to develop overnight.

"Doing a trial about a month in advance [of your wedding] is a must," says Cupid. "Just like a makeup or hair trial, you want to make sure you're happy with the results." Plan your final tan two days before the wedding, she says. "Wait to work out until after [the wedding] as sweating will lighten up the tan," she adds.

Cupid highly recommends getting a professional spray tan for your wedding day. Why? "Because a trained technician can consult with you about the best shades for your skin tone and get to areas you can't reach on your own at home," she says. But, if you haven't done a trial and you're not sure how the professional tan will turn out, it's best to use a product at home that you are comfortable with.

Learn how to apply your tan at home like a pro by checking out this step-by-step self-tanning guide.

Pair your newly gorgeous tan with these tips that'll really make you look great in your wedding pictures.



RECENT BRIDAL VIDEOS