Posted by Alison Rowe 06/22/11 at 07:26PM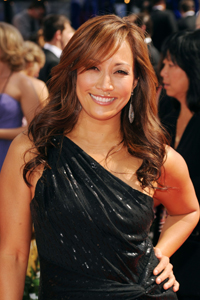 Any TV star will tell you that getting camera-worthy hair doesn't just happen overnight. Take engaged, "Dancing With The Stars'," Carrie Ann Inaba for example. A big fan of loose, flowing waves, she has to be on top of keeping it healthy -- especially with all the styling before every show and red-carpet event. We spoke to Kathleen Firth, Paul Mitchell Stylist and owner of Raika Studio in New York City to find out how to get close-up worthy hair for your wedding.
Hair gets bombarded on a daily basis, she says, and sun, blow drying, hot tools and chlorine (among others) all play a damaging part. So to make it healthy, we need to hydrate, repair and protect it. Makes sense.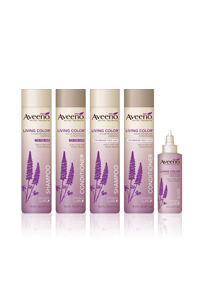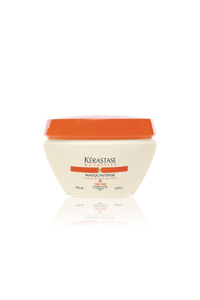 One of the first things you can do is cut back on how often you wash it, she says. "Try to [go] 2 to 3 days without shampooing -- especially if [its] colored." (If it is, use color protective products to prolong the life of your shade and help repair the damage from the chemicals (try
Aveeno's Living Color line
.) "Listen to your stylist's recommendations [when it comes to choosing products] as they know what your hair needs," she says. Know that products are not all created equal. "A lot of supermarket shampoos can have harsh ingredients that dry out or weigh your hair down." (Remember, hair is more prone to breakage when it's wet so be extra gentle as you wash.)
Firth recommends a deep conditioning treatment once a week. These treatments are designed to penetrate the hair shaft and repair the hair from the inside out. "Everyone's hair needs to be treated differently," she says, so when you're shopping for one, be guided by "what your hair needs: moisture, shine, repair etc." (We like
Kerastase Masquintense
, $60.) To get more of a boost, use a little heat from your hairdryer -- it will open the cuticle letting the ingredients penetrate more effectively.
For an in-salon treatment, she recommends the Paul Mitchell Awapuhi Wild Ginger KeraTriplex 2-Step Repair Treatment. "Part 1 repairs and seals the hair, part 2 is the Keratin Intensive Treatment that penetrates to hydrate and add shine," she says. "It also reduces color fading and breakage." Try it every 6 weeks for shiny, frizz-free results.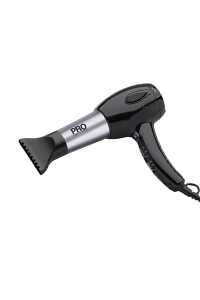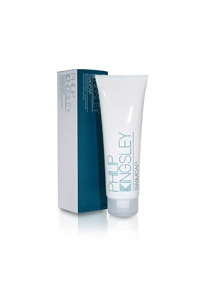 Excess heat exposure can damage hair, so good styling tools are key, too says Firth. "It's important to have an ion complex in your blow dryer, straightening iron and even your brushes. [The ions will] cut drying time by breaking up water molecules and infusing them into the hair shaft, leaving your hair hydrated and shiny." (Try the
PRO Beauty Tools PRO Dryer
, $39.99, and always use a heat protectant before you use any kind of styling tools.)
"Get a trim every 4 to 6 weeks," she says. Shorter styles should be trimmed every 4 weeks so they don't lose their shape, she says. A great cut can make a big difference. To make fine hair look thicker, go for cuts with solid, heavy lines and stay away from wispy-looking layers.
Last but not least -- especially as we are coming into summer -- protect your hair from sun and chlorine. (Try
Philip Kingsley Swimcap,
$35.)
Now you're on your way to having gorgeous, healthy hair,
check out some of these long wedding hairstyles
.



RECENT BRIDAL VIDEOS