Posted by Sarah Carrillo 02/29/12 at 01:27PM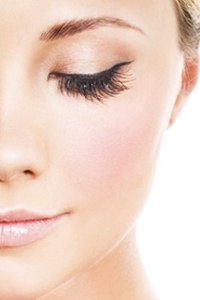 By: Kristina Grish
I'm not one to brag, but I remember feeling grateful that I had a few traits going for me on my wedding day -- like an hourglass shape for my fitted dress and narrow feet for designer heels. More than anything, though, I couldn't wait to flutter my naturally long lashes at my groom. So imagine how thrown I was when my makeup artist showed me what looked like a small spider crawling up her finger, and suggested we try some false lashes. I was totally creeped out (and even a little insulted), so I passed on the offer. But when I look back at my wedding pics now, I can see how my look would have benefitted from that glamorous upgrade.
Cut to five years later, and it seems that runway models, red carpet celebs, and yes, even brides, won't step outside their dressing rooms without faux eyelashes. The good news is, you don't have to be Beyonce or Kim Kardashian to wear falsies. "Lashes complete the face!" insists
Lori Hamlin
, a celebrity makeup artist who's worked with brides for 20 years. "When they're applied correctly, they make every girl love the way she looks, which makes her feel more confident for big nights out or special occasions, like her wedding day." Are you sold yet? If not, here are a few more reasons to say yes to falsies, and some tips to make them look flawless.
Why Lash Out?
Far beyond what a mere mascara wand can accomplish, false eyelashes add length and fullness to the tiny hairs that frame your peepers. When applied correctly, they can look really natural. They also minimize the need for heavy mascara or eye makeup, if you're into a more natural look. Though Hamlin says only a small percentage of her bridal clients
ask
for lashes, she introduces them to every woman who sits in her chair. "Before I touch anyone's face, I always talk to her about what she wants to achieve and how lashes might help her get there," she says. "They're right for every face, but you must choose a style, length, and fit that enhance your overall look."
Lashes aren't just a statement; they're practical, too. "They open up the eye and make a dramatic difference in photographs," Hamlin says. "And if they're applied correctly, you don't even notice the lashes, but you can see that the eyes look stronger, brighter, and more defined."
Head to a Pro
If you're pro-lash, Hamlin suggests having your makeup artist customize the fit and apply them at your trial session, so you can see how they look. Or if you DIY, get a professional lesson from a skilled makeup artist -- say, at a department store makeup counter -- as soon as you set a date, so you have time to find lashes that work best for your eye shape, can learn expert tricks to keeping them on, and can practice applying them. "Your wedding day is not the time to experiment with lash looks," says Hamlin. "You want to wear them around for at least a few weeks before your big day so you feel comfortable in them and know whether you have allergies or sensitivities to the glue."
Know Your Options
You can buy one of two basic types of lashes: strip lashes, which are attached to a band, or individual lashes, which offer "clusters" and "single" strands of hair that get layered in with your existing lashes. "The difference is mainly in how they're applied," says Hamlin.
For beginners, strip lashes are easier to work with, since the applicator is included in the set (Andrea Lashes and Ardell/Duralash make great starter kits). If you find using the entire strip is tricky, Hamlin says to cut the strips into sections and apply where needed. Then, "curl the lashes before you put on mascara to help them blend into your own lashes," she says. When applying individual lashes, put mascara on your natural lashes first,
then
drop the false lashes into sparse areas.
You can buy strip and individual lashes at drugstores for under $5, or at makeup counters, like MAC, which sell them for $20 to $100, depending on the type of hair and design. You can also opt for trendier looks, like crystals on mink, feathered, or colored lashes. All should last the entire evening, but try not to sleep in them. Instead, remove them before bed by using petroleum jelly to help dissolve the glue (it may need to sit for 30 seconds), then gently lift the lashes off. Don't tug or pull, since some of your natural lashes could come off with them. Put the lashes back in their container to keep their shape; you should be able to wear them about three times before having to toss them.
If you want a more semi-permanent option that'll last through the honeymoon (or three weeks, whichever comes first), try eyelash extensions. With these, a certified professional applies synthetic lashes, one by one, and bonds them to your own lashline to help it look fuller, more defined, longer, and thicker. These lashes take two hours to apply, and feel the most weightless and natural of all options. The process costs about $150 to $600, with touch-ups from $50 to $300.



RECENT BRIDAL VIDEOS