Posted by Total Beauty 05/22/13 at 10:03PM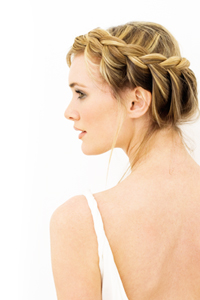 By: Kristin Kane

My husband and I spent half of our honeymoon trying every adventure sport out there and the other half being the picture of laziness. Fun and relaxation were the only two items on the menu (beside our resort's unlimited mojitos), and it sometimes took all the willpower I had to change out of my bikini daywear and into something appropriate for dinner. Putting effort into my usual daily hairstyling routine? About as likely as me missing our complimentary couples' massage. (Yeah, being a newlywed has its perks.)

Luckily, there are some easy ways to keep your bridal beauty standards up during your honeymoon, says celebrity hairstylist Ryan Randall, whose clients have included Carrie Underwood and Demi Lovato. When your honeymoon comes around, keep his tips in mind and spend the time you would have been in front of the mirror doing something a lot more enjoyable. (If you can't think of anything right away, I'm pretty sure your other half has a few suggestions at the ready ...)

Get the Most Out of a Good Thing
Just before you go or on one of the first days you arrive to your honeymoon destination, get or give yourself a good, thorough blowout. If you got one for your big day, that will do just fine. "As long as you don't put a ton of product in it, a professional-grade blowout should last you several days -- even as much as a week," says Randall. Steer clear of gels, oils, and sprays; use a drop or two of anti-frizz serum like John Frieda Frizz Ease Hair Serum, $9, if that's a concern for you, but nothing else.

On the second day and beyond, revive your hair by spraying dry shampoo on your roots and work it in with your fingers. Randall likes Klorane Dry Shampoo with Oat Milk, $18. Avoid over-brushing the whole length of your hair to keep oil distribution to a minimum, says Randall.

Twist Without the Shout
"Updo" sounds formal and difficult, but it doesn't have to be. "My go-to for anything from red carpet to every day is a messy chignon or a great braid," says Randall. Stylish and speedy, these two looks are easy ways to score knockout hair without much fuss.

For a simple chignon: Gather your hair at the nape and secure it into a ponytail with a hair tie. Divide the pony into two sections. Wrap each one, one at a time, around your fingers and pin. It shouldn't be tight or symmetrical -- its beauty is in its imperfection.

For a side braid: A straight-down-the-back version is too elementary school, says Randall. Instead, gather your hair as if you were going to tie it into a ponytail. Then, slide the hand holding the hair to the left or the right. From there, bring your other hand to the other side by reaching across your face. Divide the hair in three sections, weave them into a traditional braid and finish with a hair tie. Again, it's meant to be messy, so don't fret over stray hairs.

Accessorize
To keep hair off of your face, fold a scarf to your desired width and use it as a headband. You'll protect your roots from sweat, helping your hair stay fresher longer. A bold print choice can also help draw attention away from limp hair. Or, wrap the scarf around your hair entirely. "It is a great way to cover up frizzy hair and it looks intentionally stylish," says Randall.

Flowers can also add some whimsy to your hair and make a style that might otherwise be considered undone look naturally gorgeous. Pin your hair back on one side and tuck in a fresh bloom (they should be easy to find around the resort).

Pass the Salt
Texturizing products can amp up your volume and give even dirty hair better hold. Randall likes Aquage Sea Salt Texturizing Salt Spray, $18, but he also loves to use water fresh from the ocean for the same purpose. (Honeymooning by the sea? Bring an empty spray bottle so you can take some home!) Spray liberally on clean hair, comb, style into waves with your fingers, and go.

Wash and Barely Dry
After a few days of the pool and ocean, you may have to finally give into a good shampoo. Make sure you bring and use products made for your hair type, says Randall, as that almost guarantees you'll need to do less to your hair to make it look good than if you used the hotel freebies.

If you have curly or unruly hair, wrap your hair up in a scarf and let it dry, which will help prevent it from getting too voluminous. Otherwise, leave a towel wrapped around your hair to soak out as much moisture as possible. Then, when your hair is about 80 percent dry, use a blow dryer to finish up. "Hair tends to cooperate more when it is less wet, and this will cut your prep time down drastically," says Randall.

If you want to forego the blow dryer all together, apply one to two pumps-worth of styling cream into your hair and allow it to air dry. This will help keep frizz under control and leave it more manageable than if you went without. Randall likes Bumble and bumble Grooming Creme, $26, and Kerastase Nutritive Lumiere Nutri-Sculpt, $30.



RECENT BRIDAL VIDEOS