Posted by Kristen Giordani 09/22/10 at 05:29PM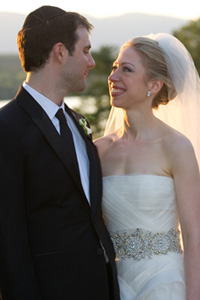 Chelsea Clinton took on the "classic bride" look and raised the stakes. Women all across America are printing out pictures of her wedding hair and makeup look, thrusting them at hair and makeup artists and saying, "This is the look I want -- still me, but a prettier version." We spoke to Sandy Linter, famed celebrity makeup artist, as well as Nico Aceves, top stylist at Bumble and bumble, to get the skinny on recreating Clinton's wedding hair and makeup. Here's how to do it:
Chelsea Clinton's Wedding Makeup:
Step 1:
Create a flawless base with a long-wearing, oil-free foundation. Try
Laura Mercier Oil-Free Foundation
, $42.
Step 2:
Contour cheeks and add color. Linter recommends blending
Lancome Blush Subtil in Cappucine
, $29.50, under the cheekbones, plus a bit on the cheekbones, and adding a touch of
Lancome Blush Subtil Sheer in Amourose
, $29.50, higher up on the cheekbones for a glowing finish.
Step 3:
Dust the center of your face and forehead with sheer, transparent powder to soak up any shine.
Step 4:
Sweep a nude shadow over your entire lid. (This acts as a base for the other colors you'll use and prevents shadows from getting oily.)
Step 5:
Line your top lids with a black pencil (try
Rimmel London Soft Kohl Kajal Eye Liner Pencil
, $3.33, and soften the line with a small shadow brush or Q-tip. Go over the line again with black eyeshadow, making it a bit thicker at the outer edges of the eye for a more wide-eyed look.
Step 6:
Retrace the black liner with a smoky grey shadow, blending up onto the eyelid and finishing just under the brows -- remember, the key to a great smoky eye like this is blending. The color should be darkest at your lashline and disappear before it reaches your brows, with no obvious lines.
Step 7:
Line your lower lashlines with black pencil and smudge slightly with a small brush. Apply two coats of mascara (try
CoverGirl LashBlast Fusion Mascara
, $8.99) to your upper lashes only.
Step 8:
Finish the look by applying a warm rosy lipstick shade (try
Bobbi Brown Creamy Lip Color in Blue Raspberry
, $22) on the lips then top it with clear lip gloss.
Chelsea Clinton's Wedding Hair:
Step 1:
Apply a generous amount of a volumizing spray like
Bumble and bumble Thickening Hairspray
, $25 to damp hair. Don't be shy with the product -- your hair needs to develop grip to stay put once it's pinned up.
Step 2:
Pop the nozzle on your hairdryer. Using a flat styling brush and blow dry hair. You want to create volume here, so direct the roots of the hair back as you dry.
Step 3:
Next, take a one-inch wide section of hair at the back of your head (from the bottom of the crown to the nape of your neck) and backcomb it to create volume and a base for pinning.
Step 4:
Gather the hair as though you are about to put it into a ponytail, and mist all over with a little hairspray. Try
Pantene Pro-V Fine Hair Solutions Lasting Volume Hairspray
, $5.99.
Step 5:
Twist and roll the hair inward (French twist-style), securing with a few three-inch long hair pins. Use smaller hairpins to secure any stray pieces and finish with more hairspray to smooth down flyaways.
By Alison Rowe



RECENT BRIDAL VIDEOS