Posted by Total Beauty 04/19/12 at 05:36PM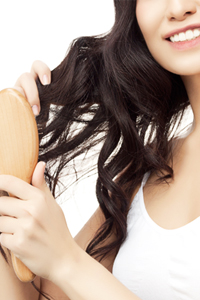 By Jennifer Tzeses
I'll admit, the idea of a personal glam squad at my disposal is pretty thrilling, especially since styling my own hair isn't always easy. I've never used a flat iron and come out un-dented, and even when I blow dry with a round brush, my hair seems to puff in all the wrong places.
For a voluminous down 'do
Veil or no veil, getting your hair to reach Texas-style proportions is no small task -- until now. Enter: John Frieda Frizz Ease Hair Setter by Conair, $49.99. These are not your grandma's hot rollers. The set features five titanium ceramic-coated jumbo rollers that heat up in about a minute. All you do is wrap small sections of your hair around each (most importantly, your front and top strands) and hold in place with the large clamps provided. Leave them in while you do your makeup and voila -- mile-high hair awaits.
For beachy waves
You already know flat irons are great for straightening, but they can be just as fab for waves.
The Seductress by Sultra
, $210, is the best hot tool for the task. It has three temperature settings, which can be customized according to your hair type: fine, medium, or thick. The key to creating waves with a flat iron is the position of the barrel. Hold it horizontally against your head. Take a 2-inch section between the plates, bend the barrel inwards and pull strands through firmly (NOTE: This is the same effect as running one side of a scissor blade along a ribbon to make it curl). Watch as waves spring to life.
For straight styles
The last thing you want to worry about on your wedding day is frizz. The only way to ensure it won't happen is to prep ahead of time. Forget about pricey Brazilian blowouts and Keratin treatments. Here's something you can do at home for a lot less:
Bumble and Bumble Concen-Straight at home Smoothing Treatment
, $45. This bad boy can de-frizz the curliest, thickest, coarsest, most unmanageable hair out there. Here's how it works: Divide wet hair into 2-inch sections, apply the treatment from root to tip (one section at a time) and comb through to distribute evenly. Let it sit for 30 minutes, combing hair every 5 minutes to keep it straight. Rinse out with warm water for about 10 minutes. Blow dry hair and flat iron section by section. Wait 24 hours before shampooing, letting hair hang naturally (no headbands, clips, or barrettes!). The treatment lasts for 30 shampoos. Amazing!
For curls
I'll admit, every time I try to style my hair with curls, I end up with more of the kinky-dent variety. No matter how carefully I place my hair around the barrel of my curling iron, the clamp comes back to bite me. Thanks to the
T3 SinglePass Whirl Professional Styling Wand
, $130, I am now officially dent-free. The secret to this styler is its clipless, tapered barrel. It heats up fast and maintains the temperature until you're finished. All you do is wrap strands (thinner for tighter curls; thicker for fuller curls) around the wand, hold for a few seconds and release.



RECENT BRIDAL VIDEOS