Posted by Total Beauty 03/07/12 at 06:05PM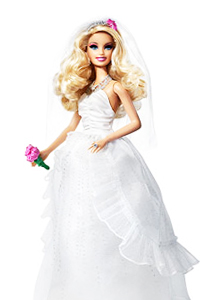 As an opinionated wedding guest, I'm often stunned by the number of times I've seen otherwise beautiful women look like they're wearing stage makeup when walking down the aisle. I mean, if your look is at all similar to the one you rocked for your first ballet recital, something is very wrong.
To a certain extent, it makes sense that some women find it tricky to differentiate pretty from pretty awful since most of us don't regularly hire experts to create special occasion looks, much less try to do it ourselves. But the fact remains that even if you're a natural beauty, you'll need to pump up the glam for your wedding, as you stay true to yourself -- and not look like the lead in a Broadway review while you're at it. That's why we asked Ashley Bourdon, a celebrity makeup artist who's worked with brides for the past 10 years, to dish on the five most common wedding day mishaps that she's witnessed -- and explain how to gorgeously resolve each one.
Mishap #1: "Excessive dew, shimmer, or gloss"
Where it can go wrong
: "Everyone wants to look dewy and healthy, but too much moisture in the t-zone is a bad idea," says Bourdon, adding that it doesn't take long for healthy, over-moisturized skin to turn greasy and oily. With shimmer, Bourdon says a bit on the eyes or cheeks looks fresh, but too much on both is excessive. Gloss bounces light in a similar way, so if you're going for shimmery eyeshadow and a shimmery blush, Bourdon says to steer clear of super shiny lips.
A better idea
: Instead of shimmer, Bourdon likes adding a light amount of highlight to the tops of cheekbones: "I really like NARS multiples and Benefit Cosmetics High Beam for this." Add a little gloss to the lips, like Chanel's Glossimer and Urban Decay's Lip Junkie, and that's plenty. You never want to look dewy, shimmery, and glossy: "Two out of three is a good guideline."
Mishap #2: "Not using waterproof mascara"
Where it can go wrong
: All that crying and sweating for hours ... Talk about a potential mess!
A better idea
: "Waterproof mascara is an absolute must for any bride," insists Bourdon. She likes options from L'Oreal, Lancome, and Dior. Also, one application of this black magic should get you through the night, though she does suggest re-curling your lashes before the reception.
Mishap #3: "Getting too trendy"
Where it can go wrong
: First, trends are tempting, but they don't look universally hot on everyone. Second, when you look at your photos in five years, you want to smile, not laugh. Finally, there's a lot of room for error. Among too-trendy looks, Bourdon sites black liquid winged eyeliner whose tip is extended too far out ("it's tacky and can smear"); bright pink and coral lips that say spring, but look harsh in photos; smoky eyes that work for the bar, not the altar.
A better idea
: Keep your look natural and simple, and if you must find a small way to incorporate a new trend, use it to add definition to your favorite feature. Also, don't try to pull off too many looks at once. Restraint and perfectionism is your friend. "Get inspiration from magazine photos or online, and practice replicating it weeks before you wedding," Bourdon says.
Mishap #4: "Wearing makeup that isn't you"
Where it can go wrong
: This is a big problem with makeup artists, since we often trust their advice over our instincts. "If a professional thinks you look great in a red lip, but you've never worn one, you'll hate your photos," says Bourdon. "Stay open to suggestions, and let the pro do her thing, but don't forget that it's your day. It's up to you to tell her things you like and don't."
A better idea
: Again, skim magazines and online for inspiration. "If you have a hard time achieving the look yourself, or you don't have the right makeup at home," she adds, "go to a makeup counter and have an artist do it for you for free." She also suggests taking photos before the wedding, to see how it translates on camera. "This is also a good way to remember exactly what you like," she says, noting that you can then use the pictures to get additional opinions from family and friends if you want. So how can you tell if a makeup look is right for you? "You'll feel comfortable in it," she says. "It's that simple."



RECENT BRIDAL VIDEOS