Posted by Total Beauty 06/08/12 at 04:22PM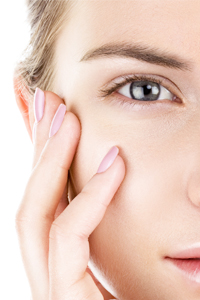 By Jennifer Tzeses
At an early age, I learned a hard lesson: If you over-pluck your brows they won't come back. This bit of wisdom came straight from the source of all my early beauty education: my mom. Unfortunately, when she was young and plucking was in its prime, her poor eyebrows were sacrificed in the name of a perfectly shaped arch. Now, she's stuck penciling them in daily -- otherwise, she's virtually brow-less!
If you are a bride-to-be who also over-plucked this is especially unfortunate, because in case you haven't noticed, big, bold brows are back. Framing your face with the right brow shape will ensure your wedding day photos are flawless, but if you're dealing with puny arches this is easier said than done. So, I chatted with eyebrow expert and founder of ybf Beauty, Stacey Schieffelin, who offered some help.
Shape up
If you've over-plucked, give the tweezers a rest for about two months -- the time it generally takes for brows to grow back in. That way you can start with a fresh canvas. Your ideal brow shape is based on your face shape. If your face is round, the tip of your eyebrow should point to the top of your ear. Curved brows emphasize the round shape. If your face is square, point the eyebrow toward the center of the ear, reducing the distance between the upper and lower halves of your face. If your face is oval, enhance the shape by aiming the tip of the brow in the direction of the lower earlobe. If your face is long and narrow, keep the line above the ear almost straight across to lessen the appearance of length.
Go pro
A professional brow technician can help you get the ideal shape, so all you have to do is maintain it before the wedding day. Waxing (if you need it) should be done at least five days prior to the wedding in case of a breakout or bad reaction, which includes swelling and redness. Wax also removes a light layer of skin and makes it impossible for foundation, self-tanners, and eyeshadows to adhere to your skin.
Maintain your arches
Post-wedding, when the hairs start growing in, tweeze unwanted strays in natural or bright light every two to three days in a magnifying mirror. Always tweeze in the same direction as the hair growth. Tweezing in the opposite direction can damage the hair follicle, and the hair might not grow back in properly. The best time to tweeze is after a steamy shower as your pores are open and it makes the task a lot less painful. If you have some unruly, long hairs, trim before you tweeze. You don't want to ruin your browline by tweezing hairs that should have stayed but were simply too long. A clear brow gel can help tame wild hairs; after you use brow gel a few times the hair learns to adapt to that position.



RECENT BRIDAL VIDEOS