Posted by Total Beauty 09/22/10 at 06:14PM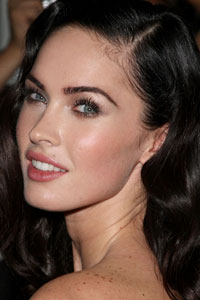 "A well shaped and groomed brow can lift your eyes, improve your expression, make you look younger and more sophisticated," says Ramy Gafni, brow guru and makeup artist to the stars. (And you thought Botox was the only answer.) "The trend this season, thankfully, is the bold, fully realized, well groomed brow. It is flattering on every face shape," says Gafni.
So, as you run down your bridal makeup and
beauty checklist
, make sure your brows don't get forgotten. Megan Fox, recent bride and should-be spokesperson for the perfect brow has enviable arches.
To get similar ones, "the brow should be bold, but not heavy in appearance -- you want the strong brow to still lift your eyes, not visually weigh them down," says Gafni.
Now it's time to get your tweezers ready. Follow Gafni's tips to get impeccably shaped brows that'll make you look younger and more sophisticated (what more could you ask for on your big day?):
What you'll need:
*A large mirror, preferably near a window
*Grooming scissors
*A small brush (a baby toothbrush or old mascara wand that's been cleaned with makeup remover work best)
*A good pair of tweezers (Try
Ramy Tweezer by Tweezerman
, $20. The rounded tip is more gentle on skin than a pointed tweezer, but still precise enough to grab every hair. (You don't want a tweezer that's too pointy as it may break the skin.)
*40 minutes. Gafni recommends this amount of time, so you don't rush though the grooming process.
Steps to follow:
Step 1:
Brush your eyebrows upward, if there is a lot of length, trim them
conservatively
with the scissors. (Like you are trimming split ends.)
Step 2:
Tweeze underneath the brow, removing one row of hair from the inner corners to the ends. (Pluck hairs out in the direction of growth.) If necessary, remove a second row of hair from directly underneath the arch, to open it up. Then clean the random strays in "no man's land," the area that isn't part of your eyebrow or hairline, but somewhere in the middle. Lastly, pluck between your eyebrows. Where should your brow begin? Hold your brush, or a pencil, vertically against the side of your nose. Your brow should begin where the pencil lands.
Step 3:
Using a brush, comb brows downward. If there is still excess length, trim it, cutting against the grain. Remember, trim very conservatively, you can always cut off more, but once the hair's gone, there is nothing to do but wait for it to grow back.
Step 4:
Once you have the perfect shape, it's time to fill in the gaps and reinforce the great shape. Gafni suggests using a wax-based product over a powder to fill. "It will adhere to the skin longer and hold hairs in place. Choose a color that is a shade or two lighter than your hair color and brush it through to blend. Try
Smashbox Brow Tech To Go
, $26.
By Alison Rowe



RECENT BRIDAL VIDEOS