Posted by Alison Rowe 01/12/11 at 05:28PM
Ahhh, brides-to-be... so many parties so little time. It's not enough that you have to plan the party of your life (your wedding), but there are so many other events to fete you and your soon-to-be hubby too: The bridal shower, rehearsal dinner, the bachelorette party and let's not forget the actual wedding and honeymoon -- what's a girl to do? You, of course, want to strike the right hair and makeup balance for each one, but with everything else that needs to be organized, chances are these bridal hairstyles and makeup looks are going to be left until the last minute. Well ladies, have no fear, we've done the research (ahem, played with hair and makeup products for you) and have gorgeous looks and how-tos to share with you.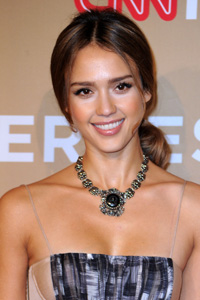 Bridal Shower
Inspiration: Jessica Alba
Hair: "A casual, polished look is great for a bridal shower," says Brian Zinno, Educational Director at Antonio Prieto Salon. Prep hair with a thermal protector (try
Kerastase Nectar Thermique Nourishing Cream
, $36) and smooth strands with a blow dryer and round brush. Finish by pulling hair into a low ponytail, keeping it loose over the ears, he says.
Makeup: "Eyeliner is key in this look," says bridal makeup artist Christan Burran for Soulful Make-up Art. "Apply a super black liner like
Make Up For Ever Aqua Liner
, $17, then blend a black eyeshadow over it for a modern, smoky effect."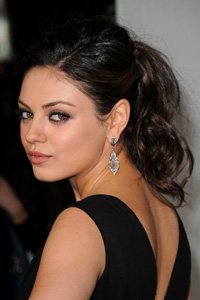 Bachelorette Party
Inspiration: Mila Kunis
Hair: "The bachelorette party is a great occasion to be a little wild (with your hair) before the big day," says Zinno. A ponytail with attitude is the perfect option, he says. To get the look, spritz hair with
Kerastase Double Force Multi-Protective Spray
, $36 and use a large barrel curling iron (curling from mid-shaft to ends only) to create waves. Tease the crown section of your head. Pull the sides and nape area into a tight ponytail, then incorporate the crown area loosely so it stays full. Spritz with more hairspray to combat flyaways, he says.
Makeup: What pairs perfectly with an "I'm too sexy" pre-wedding hairstyle? A smoky eye, of course. "This look can be a little rock and roll with sparkly black eyeshadow," says Burran. (She recommends using
Make Up For Ever Star Powder in Black
, $19 to create the look.) "Apply it all over the lid, then blend with a Q-tip or finger," she says. Add a matte-ish peachy nude lip and you're done.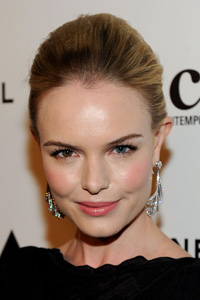 Rehearsal Dinner
Inspiration: Kate Bosworth
Hair: Try a modern bun for the rehearsal dinner, says Zinno. Section a rectangular shape on the top of your head, leaving your front hairline out, he says. Backcomb two-inch sections and spray hairspray (try
Sebastian Shaper Zero Gravity Hairspray
, $16.95) on the sections. Pull the sides of your hair back, and smooth the top section back keeping the height intact. Pin the hair into a bun and secure with the same spray, he says.
Makeup: To get a perfect-looking complexion, Burran recommends using
Make Up For Ever HD Invisible Cover Foundation
, $40. To make the look movie star-worthy, she suggests always using extra black mascara. Use the tip of the brush to "paint" and define each lash, focusing on the outer lashes, she says. "Finish with a matte peachy blush on the apples of the cheeks."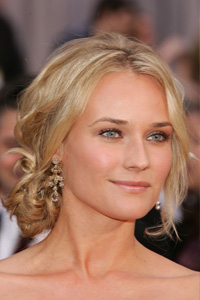 Wedding Day
Inspiration: Diane Kruger
Hair: "Keep the wedding day modern and casual by not overdoing the updo," says Zinno. Add texture with a sea salt spray (try
Bumble and bumble Surf Spray
, $23), then pull your hair into a loose, low ponytail (leave a section out over each ear), he says. Split the ponytail into several sections and pin in place. Loosely incorporate the free sections, leaving a few strands out.
Makeup: "Bridal makeup can be very romantic in copper and brown tones," says Burran. (Try
Make Up For Ever Star Powder in Copper
, $19.) A copper eyeshadow reflects light and brings out the natural eye color, she says -- "it also looks beautiful in photographs. A pinky nude gloss on the lips brings the look together."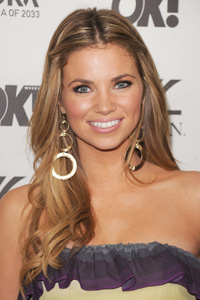 Honeymoon
Inspiration: Amber Lancaster
Hair: Once the wedding is over, it's time to let your hair down -- literally. To get this laidback look, "prep the hair with an anti-frizz serum (try
Kerastase Serum Oleo-Relax
, $36)," says Zinno. Use a large curling wand or iron (from mid-shafts to ends only) to create soft, beachy curls. Part the hair in the center. Take a section from either side of your head and pull them back, securing underneath your hair to hide the bobby pins, he says.
Makeup: "This look is all about bronzer and how it's applied," says Burran. "Try a warm bronzer with shimmer on the temples, cheekbones and tip of [your] nose. To give even more glow, wear a sheer foundation in a shade one tone darker then your actual skin. Add a swipe of lip gloss for a sexy yet casual look.
Still looking for your wedding hairstyle and makeup? Check out these
straight-off-the-runway bridal hairstyles and makeup looks
.



RECENT BRIDAL VIDEOS