Posted by Total Beauty 10/15/12 at 12:56PM
By Emily Kate Warren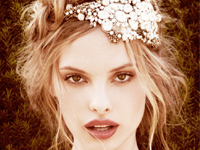 In my career as a professional hair and makeup artist I've seen
far
too many brides have day-of meltdowns unnecessarily. See, while it's easy to blame a hair and makeup artist for ruining your big day, the truth is if you don't prep correctly, even the most skilled pro will have trouble making your beauty dreams come true. It's simple things that make a big difference, like not skimping on a trial run and avoiding color changes the week of your wedding. To see what other no-nos you should avoid and what to do instead; check out the biggest bridal hair mistakes below.
The problem: getting your hair colored a day or two before your wedding
This can be a disaster because you won't have the proper time to see if your new color will take (some shades fade or don't fade enough!) and the hue simply won't look as beautiful as you had envisioned. As a result you may find yourself seriously disappointed and by that time it's too late for your hairstylist to fix the color.
Do this instead:
Have your hair colored seven to 14 days prior to your wedding day. This way if you have any issues with the color, there will be enough time to correct it.
The problem: opting to forgo a hair trial in order to save money
There are plenty of extras you can cut out to ensure you don't blow your bridal budget. But hair is not one of them. If you don't practice your look before your big day, you may be in for a big shock day-of. All of your elements may not fit together the way you had envisioned, you may not have the right hair type for your style, etc.
Do this instead:
Pay the fee to do a practice run with your stylist. Many will offer to deduct the fee of the trial from the final cost estimate if you wind up hiring them. Be sure to take photos. Also, wear makeup and something white just to make sure you love what you're seeing and giving it a fair chance. Sometimes if one element is off, you won't see the true beauty of the rest of your look.
The problem: arriving on your wedding day with squeaky-clean hair
If your hair is fine or soft, your stylist may have a hard time getting the style to stick.
Do this instead:
Wash your hair the night before and ask your stylist whether to let it dry naturally or to blow it dry. Your stylist should be able to manipulate your hair day-of, no problem, so don't worry if you wake up with serious bed head! If you absolutely can't fathom the idea of not having clean hair the morning of your wedding, ask your stylist what type of shampoo and conditioner to use as well as whether or not you should put a styling product in while you towel dry.
The problem: committing to an uncomfortable hairstyle
You may love the way your favorite celebrity wore her hair on the red carpet, but if you do your trial and you can't blink and/or an hour later you've got a headache from hell, your night won't be any more enjoyable. Trust me, even if you think for a fleeting second "It's only four hours, I can handle this!" you need to dismiss that thought immediately. No pain, no gain should not be your wedding day motto.
Do this instead:
When your stylist performs your hair trial, if you feel a tightness that hurts five to 10 minutes or even a few hours
after
you have been pinned, tell him or her. Communication is key. If you're bothered before, you'll be bothered day-of. Your stylist should be able to suggest alternative styles and pinning methods that will help ease any discomfort so that on your wedding day you'll be pain free (well at least from the neck up, can't speak to your shoes or spanx).
The problem: selecting a style that's extremely "trendy"
There's a reason why the beautiful Jennifer Aniston is still tortured over her dread-head red carpet decision at the Emmy's back in 1999 . . . it's a picture that will last forever of a style that certainly
won't
. Sure, hair bows are hot right now but will they be in 10 or even 20 years? Doubtful.
Do this instead:
Much like your dress, you need to choose a hairstyle that will reflect your true beauty through a lifetime. Yes, after many years, looking back at your photos you will undoubtedly think: "that was
so
(insert time period here)," but there's a difference between looking timely for the decade in which you wed and looking terribly "trendy" for that time period. Consider styles that were as classically beautiful 20 years ago now as they are now.



RECENT BRIDAL VIDEOS