Posted by Total Beauty 08/24/11 at 10:51AM
By: Anne Chertoff
Thinking of growing out your cute, short hairstyle for your wedding day -- and
only
because of your wedding day? Afraid you won't have any style options unless you add a few inches?
That's nuts, say top stylists. As tons of celebs on the red carpet have proved, short hair can be everything from chic to romantic, and there's no need to get extensions to look like a "bride." If you need more convincing, just check out the hairstyles below.
Once you see them, we think you'll agree that you should cross off "grow out hair" on your wedding to-do list and check out these short hairdo ideas for your wedding day. We even give you the step-by-step tips on how to get the looks, so you can try them yourself
before
your practice hair appointment (and maybe even give your stylist a few pointers).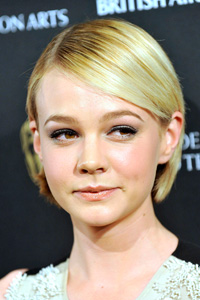 Option No. 1: Carey Mulligan
The Look: Chic and sleek
How to Get It:
1. Rub straightening serum (like
L'Oreal Paris Texture Expert Fluid Intense Straightening Serum
, $17.25) in your hands to warm it up and then apply to towel-dried hair, says Edward Tricomi of
Warren-Tricomi Salons
.
2. Blow dry the hair with the nozzle facing downwards and brush the hair back as you blow dry.
3. When the hair becomes dry, slick down hair with hairspray (try
Kerastase Double Force Hairspray
, $36) by spraying it while moving the blow drier in the spots you need it.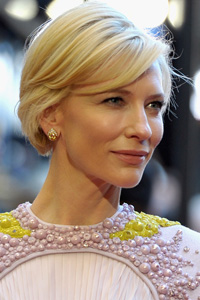 Option No. 2: Cate Blanchett
The Look: Simple blow out with body
How to Get It:
1. Towel dry hair really well and apply mousse evenly, especially to the root area, says Vanessa Fernandez, stylist at
Butterfly Studio Salon
.
2. Blow dry the hair in the opposite direction of the part line to obtain lift, particularly around the crown area of the head.
3. Using a small to medium brush begin to blow dry hair around the perimeter first. This section should be blown out smoother toward the neck in the back and towards the front around the face and ears.
Blow dry the rest of the hair section by section. When the hair is dry use hairspray (like
L'Oreal Paris Elnett Hairspray
, $15) to push hair behind the ears for a more polished look.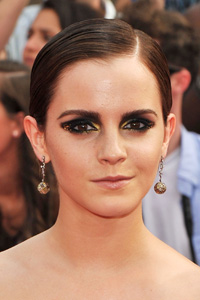 Option No. 3: Emma Watson
The Look: Slicked chignon
How to Get It:
1. Apply a smoothing oil, like
Shu Uemura Silk Oil
, $30, and blow dry hair with a flat brush to smooth it out, says Fernandez.
2. Find your natural part or use a very deep part. Use
Magic Move Pomade
, $24.95, about dime to quarter size depending on length, and apply all over hair and specifically on or around part. Finish with Hairspray.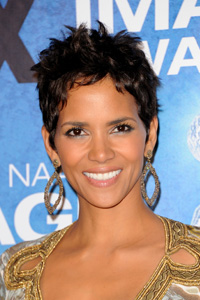 Option No. 4: Halle Berry
The Look: Short and spiky
How to Get It:
1. You need to have your hair cut in a very particular way, it's called point cutting, says Tricomi. You take the scissors and point them into the hair to cut as if you were cutting grass (so ask your stylist to do this if you don't have it already). It's about putting abstract layers into the hair.
2. To style, work some dry pomade (like
Redken Water 03 Wax Shine Defining Pomade
, $12) into the hair to add texture and give it some hold.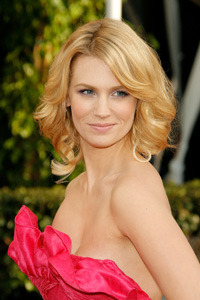 Option No. 5: January Jones
The Look: Tousled waves
How to Get It:
1. Add a few drops of heat defense serum, like
Amika Obliphica Heat Defense Serum
, $30, into the palm of your hand, rub together and distribute throughout damp hair to protect your hair from heat styling, says Michael Duenas from
Hair Room Service
.
2. Blow dry your hair smooth if curly, or if straight blow dry with a round brush to get a good amount of volume into hair.
3. When hair is dry, take random vertical sections throughout your head, about 1.5 inches thick and 3 inches tall, and use a curling iron to curl each section in opposite directions. The curls around your face should be curled away from your face.
4. Once curled, use a wide tooth or rake comb (try
Mason Pearson Rake Comb
, $28), and gently comb out the curls to create waves. The final touch is to spritz your hair with a bit of shine spray (one to try:
Amika Obliphica Finishing Shine Spray
, $24) to add separation and shine.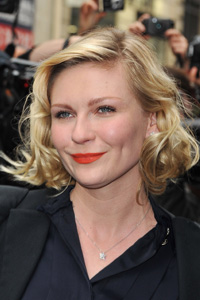 Option No. 6: Kirsten Dunst
The Look: Glamour inspired style
How to Get It:
1. Towel dry hair really well and apply mousse like
Shu Uemura Kaze Wave Mousse
, $38, says Fernandez. Scrunch and twirl the hair to enhance the wave and dry with a diffuser.
2. When fully dry smooth some pieces in the front of the hair line especially in the bang area.
3. Smooth hair with hands and using a 1-inch clipless curling iron, begin curling 1-inch sections towards your face. Run fingers through hair again to give a more fluid effect.
4. Finish with
Kerastase Double Force Hairspray
, $36.



RECENT BRIDAL VIDEOS