Posted by Total Beauty 04/26/12 at 10:48AM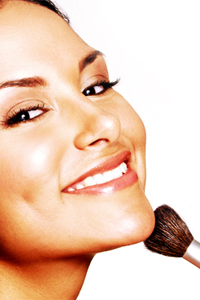 By Sarah Carrillo
When I was planning my wedding, I had lists for everything. Guest lists, decor lists, hairstyle option lists, contact lists -- I even had a list of all my lists. (Yes, I'm aware I have some issues.)
One thing that wasn't on any of my lists? An extra pair of shoes for when I had enough of my sky-high heels. (Did I mention my groom is a full foot and change taller than me?) My makeshift solution: Dancing the rest of the night barefoot. Certainly not ideal, but far less painful than my stilettos.
Of course, if I had
this
list from beauty expert Erika Katz, author of "Bonding Over Beauty," I would have known better. She's outlined all of the biggest beauty mistakes brides make. Check it out -- and make sure to add these to your own list when you're planning.
Mistake No. 1: Skipping blush
Even if you don't wear blush on a regular basis, swipe some on for photos. Without it, you can look washed out. Another tip: Apply a little more than you would normally wear -- it won't look overdone in photos.
Mistake No. 2: Doing your makeup before your hair
While it may not seem obvious at first, this one makes perfect sense. If your face is flawless and then you have to stick your head in a shampoo bowl to get washed or spray hairspray everywhere, you could need so many touch-ups that you'll essentially need to start over.
Mistake No. 3: Forgetting a second pair of shoes
Learn from my mistake. Bring a pair of lower heels or even flip flops to change into at the reception. You can ask a bridesmaid or friend to keep them handy for a quick change.
Mistake No. 4: Leaving your lipstick at home
If it's applied correctly, your face and eye makeup should last the entire night. But let's face it, no lipstick can hold up against all the photos, kissing, eating, and drinking. So keep your lipstick, balm, or gloss nearby (if you don't have a place to keep it, give it to a bridesmaid to stash in her clutch) and reapply as necessary.
Mistake No. 5: Going for the Disney princess look
Katz sees a lot of brides with tight, stiff updos and a few stiff curled tendrils framing their face. Traditional? Yep. A little cliche and Magic Kindom-esque? Yep. Try to loosen things up a bit and use a flexible-hold hairspray that won't leave your hair looking crunchy.
Mistake No. 6: Spray tanning on your wedding day
It's better to be pale than orange, Katz says. If you insist on a spray tan, do it at least two days before your wedding so you can fix any streaks, blotchiness, or orange hues. And don't go for your first-ever spray tan right before your wedding -- try it at least twice well before your big day so you know what it looks like on you, and take a few photos to see if you like your newly-bronzed self.
Mistake No. 7: Not sealing your makeup
Your wedding is a magical, romantic, and
long
day. So use a makeup seal spray to help keep everything in place.



RECENT BRIDAL VIDEOS