Posted by Total Beauty 10/07/11 at 05:45PM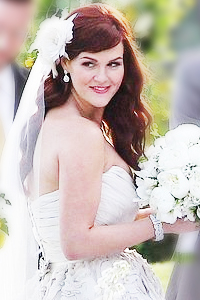 By Jennifer Tzeses
Thanks to years of too-perfect updos, wedding hair tends to get a bad rap. But just because some unfortunate brides fell victim to a spray-happy stylist doesn't mean the rest of us need to suffer the same fate.
In an effort to help you find an amazing, modern look for your walk down the aisle, I've turned to some Hollywood brides for inspiration. They showed off beautiful examples of wedding hair done right. And since I would never leave you hanging, I also asked three of Tinseltown's go-to hair gurus to give tips for each look so you can copy the one you love most.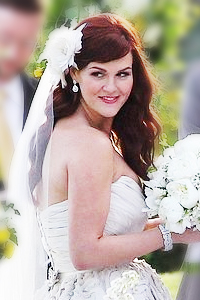 Vintage Glamour
"I'm always a fan of a bride who isn't afraid to let her hair down," says celebrity hairstylist Vanessa Price. Naturally, she loves Sara Rue's Old Hollywood down 'do. To recreate:
1. Comb hair into a deep side part, which can help give you the illusion of bangs if you don't have them, says Price.
2. Using a medium size round brush, twist the hair with your brush as you dry it to create allover texture.
3. Gather hair into 1- to 2-inch sections and prep with a texturizing spray, such as
Davines Defining Texturizer
, $18.50, to help hold the curl and protect it from heat.
4. Using a 1 1/2-inch round barrel curling iron, wrap each section around the iron, leaving the last inch of hair out. Finish by brushing through curls to loosen them up.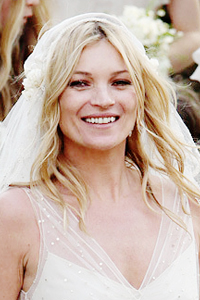 Breezy Boho
"Kate Moss' slightly messy curls have a 1978-chic feel," says celebrity hair and scalp expert Philip B. These windswept waves are ideal for a daytime or beachside wedding. To get the look:
1. Start by blow drying hair straight to give it shine.
2. Once dry, style in sections. Mist each section with a light-hold hairspray and wrap it vertically around a large-barrel curling iron, holding for a few seconds. Let the curl drop and cool.
3. Repeat the process all around your head. Lightly shake out and loosen up curls with your fingers for a soft, laid-back look. Spray your hair with
Philip B. Maui Wowie Beach Mist
, $16.99, for extra texture.
Top Knot
A high bun like Molly Sims' is elegant and ladylike, says Butterfly Studio Salon stylist Vanessa Fernandez. To recreate:
1. Divide hair into 2-inch sections and use a 1-inch curling iron to curl the ends. Shake hair out and brush through.
2. Gather hair into a high ponytail at the crown of your head. Section by section, tease your hair in the ponytail and lightly brush to smooth.
3. Wrap 1-inch sections around the elastic, creating a large bun.
4. Secure with bobby pins. Set with a medium-hold hairspray, such as
Phyto Phytolaque Hair Spray
, $23.95, for extra hold and shine.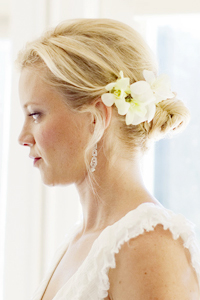 Carefree Chignon
Amy Smart's undone bun is a look that's both effortless and elegant. To recreate:
1. Blow dry hair away from the face with a large paddle brush.
2. Once dry, apply a bit of
KMS California Hair Play Sea Salt Spray
, $12.99, and work it through with your fingers away from your face to create texture, says Price.
3. To give hair lift, you can backcomb roots at the crown.
4. Create a loose, low ponytail in the back or on the side of the head and secure with an elastic band.
5. Take small sections of your ponytail, one at a time, and wrap them tightly around the elastic. Secure to scalp with small matte bobby pins that match your hair color. Leave a few wisps of hair out in the front for a windswept feel.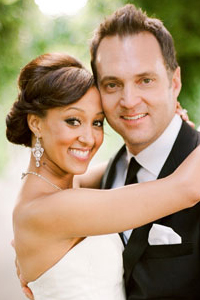 Artful Updo
Tamera Mowry's hair is highly styled but grounded with a softness that keeps it romantic and not stiff. To recreate:
1. Begin by working a volumizing mousse, such as
Kerastase Mousse Volumactive Amplifying Perfecting Mousse for Fine, Vulnerable Hair
, $30, throughout wet hair, says Fernandez. Blow dry and lift at your crown area.
2. Using a clip-less 1-inch curling iron, curl the hair in 1-inch sections all around your head.
3. Tease the crown area for extra height.
4. Take a 2-inch section of hair on one side of your head and loosely twist it back. Repeat on the other side. Join ends under the pouf you've created at your crown and secure with bobby pins.
5. Gather the rest of your hair, at the nape of your neck, into a side ponytail.
6. Tease the ponytail then twist and wrap it loosely around the elastic. Secure with bobby pins and set with a medium-hold hairspray.



RECENT BRIDAL VIDEOS