Posted by Total Beauty 05/22/13 at 01:17PM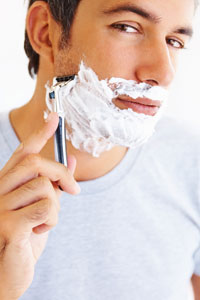 By: Kristina Grish
On my wedding day, I was surrounded by a bevy of friends and experts to help me look and feel like the most beautiful woman to ever say, "I do." When I coordinated this plan, I remember worrying whether I should really leave my husband Scott at home, to get ready without me. He could hardly pull together a dinner party look on his own, much less one for the most photographed day of our lives. So I laid out his suit, booked him a shave, and prayed that he'd get to the church looking his best. Sure enough, Scott was super hot when we exchanged vows -- it wasn't until I saw his gnarly toenails on our beach-y honeymoon that I wished I'd done more.
Sound controlling? Maybe, but who wants to have nasty feet blocking their view of the ocean? Answer: No one. To help you get your groom wedding and honeymoon ready, I talked to James Corbett, grooming expert and owner of James Corbett Studio in Manhattan. He suggested four great ways to ensure your guy looks and feels his best on your wedding day. Even better? Corbett says hubbies like being pampered too, especially if you make the arrangements for them.
"Some guys find grooming mundane, but for their weddings, they see the value of having a professional pay attention to details they wouldn't," he says. And since a typical dude might get overwhelmed with too many upgrades at once, we suggest breaking them up: Plan the first three before the rehearsal dinner, and last two on the big day. Finally, don't forget to tell your groom how sexy he looks and smells -- if you're lucky, the positive reinforcement will encourage him to up his game every day.
Step 1: Soften His Back
Book him:
A back facial
What to expect:
"This relaxing treatment exfoliates, targets clogged pores and blackheads, and cleanses impurities," says Corbett. "Men's backs collect a lot of sweat, dirt, and dead skin. It can be very difficult for men to reach all areas of the back sufficiently on their own, so this helps." Men also sweat a lot more than women, which leads to breakouts or blackheads from excessive oil and trapped debris in the skin's pores. Most back facials end with a therapeutic mask and moisturizing treatment, and some spas also offer a relaxing neck, back, and shoulder massage.
Where to go:
The spa (He can do this at the same place as the eyebrow/nose grooming below.)
Step 2: Tame His Errant Hairs
Book him:
An eyebrow tweeze/trim (never wax!), and nose trim or wax
What to expect:
Apparently, men get "flyaways," too -- but on their face. I'm guessing you'd rather not marry the old man from "Up," so book him an appointment to have his wiry eyebrows shaped, trimmed, and tweezed, plus his nose hair trimmed or waxed. (I promise it doesn't hurt; at most, he'll flinch or sneeze.)
Where to go:
The spa
Step 3: Clean Out His Toe Jam
Book him:
A pedicure
What to expect:
"This gets out all the toe jam, dead skin, and helps heal cracks, so his feet are ready for dancing at the wedding and playing footsie on the honeymoon," says Corbett. He adds that pedicures are great for men prone to calluses and ingrown nails, and also help reduce the risk of foot-related infections down the road. He'll have his nails trimmed and cleaned, cuticles pushed back, and feet exfoliated/massaged/moisturized. No polish here, unless that's his thing.
Where to go:
The spa or nail salon
Step 4: Shave His Furry Face
Book him:
A professional shave
What to expect:
Barbering is a different skill set than cosmetology, says Corbett, so you'll need a specialist for this. A professional shave is relaxing and will also give him a smooth face. At the hands of a pro, your man won't have to worry about lopsided sideburns, nicks, cuts, missed spots, or razor burn. A hot towel treatment, special shaving cream, straight-razor techniques, and facial massage will also help brighten and tone his skin.
Where to go:
Skilled barbers and specialty barber shops
Step 5: Leave Him a Treat
Book him:
Nothing, this time! Get him a new fragrance and leave it on the dresser as a gift.
What to expect:
Chances are your man's been wearing the same toilet water since he was 16. "Most men get comfortable with something they like, but won't try something new until you steer them to it," says Corbett. "Your wedding day is the perfect time to do this." Since you're buying this without him, play it safe with a subtle fragrance that doesn't bombard his senses. Or, take the scent he currently uses to the store, and ask a fragrance specialist to analyze the basic qualities he likes. Is he into peppery smells? Musky? Woodsy? Clean? "A specialist will use his old scent as a guideline to offering something a little more refined than what he's been wearing." Also, when he wears his new fragrance on your wedding day, you'll create a "scent memory" and think back on your wedding whenever you smell the scent on him in the future.
Where to go:
Department stores or boutiques



RECENT BRIDAL VIDEOS