Posted by Total Beauty 06/01/12 at 12:11PM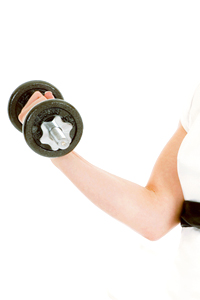 By Jennifer Tzeses
Unless you're donning a long-sleeved dress (a la Kate Middleton), your arms will be the most displayed body part on your wedding day. (Think about it, everything else is swathed in white/ivory fabric.) And of course, no bride wants to stride down the aisle with 'batwings' when she could have sculpted biceps.
To help you tone and define your arms in time for your big day, I chatted with New York-based fitness expert and Zumba teacher, Irena Meletiou. "At the same time you're toning and strengthening your arms, you want to be burning fat with a high cardio program like Zumba about three to six times a week," says Meletiou. "The more fat you burn, the more definition you will get," she says.
Below are Irena's four favorite arm exercises (she recommends doing these three or more times a week). For more fitness tips, check out her
facebook page
.
Bicep Curls
Gripping 7- to 10-lb dumbbells in each hand, hold your arms in a
90-degree angle with your elbows by your rib cage. Bring the weights in toward your shoulders, making sure your core is tightened. Repeat 10 to 15 times for a total of 3 sets.
Tricep Dips
Sit on the floor with your arms behind your back, palms flat and facing forward. With your legs bent, start lowering and lifting your body towards the ceiling by bending your elbows up and down. Make sure you use your arms and not your feet to push up and down. For more resistance, straighten and lift one leg and alternate from one leg to the other. Repeat 12 to 15 times for 3 sets. Rest for 30 seconds in between each set.
Shoulder Press
Stand with your legs shoulder-width apart and your knees slightly bent. Using 5- to 7-lb dumbbells, hold your elbows in a 90-degree angle with your palms facing each other. Lift your arms to shoulder level (keeping your shoulders down and elbows bent) and then return them to starting position, controlling your weights. Keep your core tight and repeat 12 to 15 times for 3 sets. Rest for 30 seconds in between each set.
Isometric Planks
With your knees bent (or straight if you're more advanced) hold your body in plank position on the floor. Support your body weight with the balls of your feet and your hands, keeping your elbows slightly bent. Have your shoulders down, core engaged, back flat, neck straight, and look towards the floor. Hold this position for about 6 to 10 seconds. For a more advanced exercise, lower your body towards the ground and return back to starting position. Repeat 10 to 15 times for 3 sets. Rest for 30 seconds in between each set.



RECENT BRIDAL VIDEOS