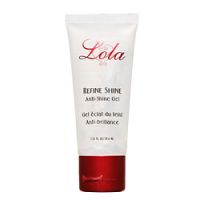 Editor's Rating & Review
This clear, water-based gel is a magic eraser for oil. Glide it on to see shine instantly minimized. What's even better? It contains grape seed extract -- a powerful antioxidant. Apply it before makeup to help pores look smaller/tighter and prevent shine. Or use it as a greasy-area spot treatment throughout the day -- it works over makeup too. One piece of advice -- don't overly rub this onto skin after applying moisturizer or it will ball up.
Reviewed by the Total Beauty editorial team on 09/25/2007

How we review products
like it!

great results, helps keep that "flash"look off the cheeks and forehead, love it!

I didn't see a benefit :(

Either I was just WAY too shiny at the time, or I didn't see a real benefit from this at all. I really like Lola so I was surprised I didn't get anything out of the the Refine Shine gel. Bummer!

Outstanding Product

I have only wonderful things to say about this gel. I apply it to my T-zone after moisturizing and before foundation, and it keeps oiliness at bay, makes my pores look smaller, and helps my foundation last all day. This is one of those products that I cannot live without.
Back
to top