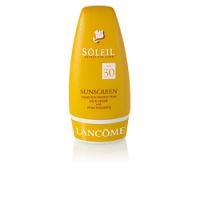 Lancome Soleil Expert Sun Care High Sun Protection SPF 30
As low as
Great for Tropical and Desert Conditions

I love Lancome sunscreens. Not only do they use the best in sunscreen ingredients, they always smell yummy. Highly recommended. I have never burned wearing this in the middle east, and it's very moisturizing too.

Excellent Sunscreen

This product kept me from getting sunburned on a Caribbean beach. It applied easily, felt great, and did it's job.

FANTASTIC SUN CARE PRODUCT

I have fair skin that easily burns. This product is fantastic. I wore it whenever I knew I was going to be exposed to the sun for long periods of time, When I went tubeing, I was the only one that was not burned. I wore it when I went rafting & reminded my friends that they had gotten burned the last time. They agreed with me. I would recommend this product to anyone that wants to protect their skin.
Back
to top