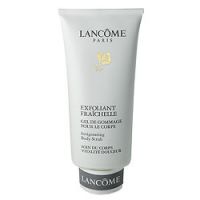 Lancome Exfoliant Fraichelle
As low as
I agree. A ten

Got this as a sample when they had a promotion. I usually buy at the well know bath and body store. I tried this today because it has been sitting around. Mine is in a clear tube and see thru. I got in the shower and am used to a cheaper brand so i put the same amount on my bath sponge while taking a shower. The lather was amazing. I used way too much. A little drop would have done jus...read moret fine. It is luxurious. It feels wonderful on the body. A little drop will do you. I am wondering if it has beads in it. A shame if it does because i understand loreal is going to eliminate them because they have been going through the filter screens and showing up in the Great Lakes. A shame. One of my favorites now.

Very nice body exfoliator.

This has a really nice feel to it. It's a pretty green color and the exfoliant is really gentle. You don't need to use a lot at all. The scent is amazing. When I use this, I don't even put on perfume because the scent is great an it lingers. It did make my skin really soft and smoother. It enjoyed it. You can also use more and scrub longer for a deeper exfoliation or use a little for light.
Back
to top