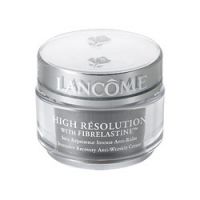 you think so? not so much

ok so my mom uses this cream at night and she has a lot of wrinkles around her eyes and it does work a little but not that much her skin is really saggy and wrinkly and she isn't even that old!! i feel so guilty for making her stressed out and wrinkly :( but this cream doesn't really work

A must-have for thirty-somethings...

I can't live without this, and I think they might be removing it from their product line! The only way I can describe it is that it feels as though my skin was "liberated" as soon as I put it on. It makes my skin more elastic, more able to defend itself from abuse. I also still have a little bit of acne but this face cream seems to keep it at bay while moisturizing very well. Unlike othe...read morer Lancome face creams, this is not greasy and is not heavily perfumed (it actually smells very nice). It makes my skin look and feel softer and healthier. Once again, this is a product I got addicted to when I received a .5 ounce sample of it with another order. If you have skin like mine, you will find that its benefits more than make up for the cost of the cream because it works so well it saves you from having to buy other products to correct skin flaws. IF THERE IS ONE PRODUCT ON THIS ENTIRE SITE THAT I WOULD RECOMMEND IT'S THIS ONE!

Awesome instant glow and smoothing

I find this stuff to be indispensible i know right away if i've forgotten it bc my skin feels drab and glows much less. The fragrance like any lancome product is flowery but i happen to like it and so does my husband. 2 THUMBS UP! On a side note i'm young (25) and doing preventative maintenance to avoid aging badly so i can tell you if i notice a difference i can only imagine what a woman older than myself would notice!
Back
to top