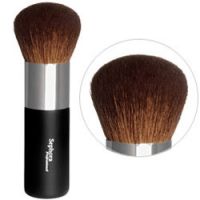 Love this!

It's quite expensive, but it's worth the investment when you properly maintain this or any other brush. The bristles are soft and it spreads the pigment beautifully.

Worth the investment

This is a brush I truly feel was worth the money. I use it every day for contouring and it works perfectly. The brush head is large, dense, and fluffy. The bristles maintain their shape well but are incredibly soft and gentle on the skin. I wash my makeup brushes about once a week with baby shampoo and let them air dry. Shedding is minimal. It is very easy to control how much product this brush pi...read morecks up just by varying the pressure applied to the palette. It does pick up product VERY easily, but once you get a feel for it, you should have no problems. The brush blends well. I have pale skin, winter or summer, so subtlety with my bronzer is important. I never have weird, obvious lines with this brush. Would I buy this brush again? Absolutely. But considering how well it has held up so far, I won't need to worry about that for years.

Great Brush, Best for All Over Color

I had my eye on this brush for sometime but I was hesistant to make the monetary committment to it. I ended up bighting the bullet and buying it. I was a bit dissapointed when I found that it really is a tad too large to apply bronzer with. I try to avoid doing all over color with bronzer and opt for a more contoured look. I was going to return it when I thought it might make a good loose powder b...read morerush. Sure enough, its tightly packed, super soft bristles work perfectly and really create a flawless finish with pressed or loose powder. I usually use it as a sort of kabuki brush where I'll buff the color on moving the brush in circular motions, pressing rather firm. I strongly suggest trying this in-store with a bronzer to see how you feel about the way it applies the product BEFORE buying it. Otherwise, if you are looking for a new powder brush, this one is great! I'll also sometimes use it for body bronzing where I'll aplly lotion to my shoulders, legs and chest and dust a light, shimmery bronzer on.
Back
to top