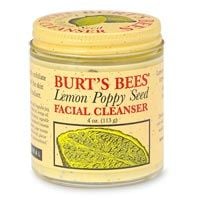 What a mess

This cleanser smells excellent. Otherwise, it's worthless. It's difficult to spread around your face because it's so waxy and after thorough rinsing a waxy, oily residue is left on the skin. Cleansing? No. Maybe this is minutely helpful if you have really dry skin.

Works Well For Me!

Some people complain that this product makes their skin to oily, but I don't have any problems with it. I have eczema and sensitive skin. It made my skin feel fresh and clean. The only thing that's wrong with it is that sometimes you'll forget a poppyseed on your face after using it. I love how it makes my face smell like lemons lol!

helps skin but...

this product helps with common skin problems like dryness and acne and redness but it can leave you feeling a little greasy just for a while then its just super soft! this is a great skin cream wash for people with dry skin. and it does not clog pores!
Back
to top