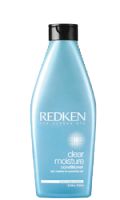 Editor's Rating & Review
This inexpensive conditioner claims to "replenish" and "rebalance" simultaneously. In reality, it's a light, moisturizing detangler -- not a clarifier. Apricot oil detangles and adds a light scent; glycerin and small dose of silicone lock in moisture in normal and dry hair, as long as your mop isn't too thick or damaged. Thicker hair needs a heavier conditioner than what's offered here. If you need a fix from over-styling, add Instant Polishing Prep leave-in treatment.
Reviewed by Kristen on 09/25/2007

How we review products
Lightweight conditioning

This conditioner was too lightweight. I only recommend to people with healthy virgin hair. It's one of Redken's products that actually isn't offensive and strong in fragrance. If you have chemically treated hair, you'll need more conditioning product than this one. For the price, drugstores sell same or better quality than this.

Very drying on color treated hair.

I used this a couple times and didn't like how it made my hair feel brittle to the touch. It really dried out my fine hair when it was suppose to moisturize it =(

Great for normal hair

This is THE product for normal hair. Anyone else should use a product catered to their issue. This gives a little body and a little moisture to keep healthy normal looking hair stay that way.
Back
to top