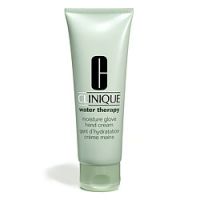 This is GREAT!

I love this lotion! My hands feel so silky and smooth! Plus, I don't have to constantly reapply because it lasts for a long time. I can definitely tell a difference in the look and feel of my hands when I am using this. It's great! A must have!

GREAT!

received a sample of this a few years back. i LOVE it! after washing my hands, i noticed my hands were still moisturized and not rough. they weren't feeling the same as before i wash my hands, but compared to other hand lotions, it is great! I wouldn't, however, pay the price for this product. Not sure if Avon still makes it, but a few years back, I bought a load of Avons silicone hand cream. It is practically the same as this one but for less than $5 a tube. Both work the same!

nice hands

when i first used this product, i immediately tried to compare it to ther hand treatments that i've used, and there are some similarities, but one big differrence: my hands feel smooth ALL DAY when I put this stuff on. Even after washing my hands I can still feel the softness.
Back
to top