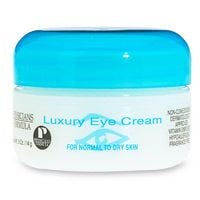 This stuff didn't work for me...

The eye cream is more of a wax than a cream, if you will. It isn't smooth like a lotion but is more like one of those lotion bars that melts as you touch it. The texture of it is the problem. I put in on my eye area and it felt all gross and waxy, sort of like if I put lip gloss around my eye (only not as extreme, obviously). I thought that maybe I just had to let it absorb but when I woke up ...read morein the morning all the greasiness was still there, all around my eye. It was not absorbed at all an just looked greasy and sticky and was not appealing as an eye cream. It wasn't like a lotion at all. I really would never recommend this product to anyone.

well named

This is my little nightly luxury just before going to bed. Soft, smooth, not at all greasy. Perfect for tired eyes & fine lines.

I love this stuff

I have been using this around my eyes for 15 years and I still love it and it has made my eye area look good. I'm 52 yrs. old and would probably look a lot worse if it wasn't for this cream. The only problem is you have to check the product before you buy it, if it sits too long in the store it turns hard. It should be a light green color and creamy, it turns to a darker green and solid when it's been in the store too long.
Back
to top