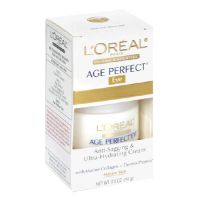 Not Happy

Considering that this is on the high end of drugstore pricing and that it is L'oreal-I was very dissapointed with the performance. It was greasy and stung-plus I did try it until the jar was empty and it never really made a difference on small lines and wrinkles. Sometimes when it irritated my skin it seemed to make them worse. Not happy with it at all.

Surprised at bad reviews

Maybe the formula has changed since people last left these reviews, because for me, this eye cream is great! No tingling, no racoon eyes, no sticky residue, no problems w/ makeup application. I can literally see the cream working. For example - after I wash my face, the skin under my eyes looks dry and crepe-like. When I put the cream on, I can literally see the lines smooth away and my skin soften. Compared to Olay eye cream, I think this works better.

Mad at myself

As soon as I put it on- I did notice a little brightness under my eyes- only because I think the cream must contain a tinted color in it. And I notice a little "tingle" feeling- but it doesnt hurt. But yes it gives me major racoon eyes! I cant recall if its been during the day or while Im sleep- just think goodness Ive always been at home when I looked in the mirror & noticed it! This may be my ne...read morew night cream- but Im gettin myself a new daytime eye cream asap! I cant believe I paid $13 for an eye cream with this low of a rating! I couldnt find the 2 top eye cream's recomended by this site- which were the only 2 eye creams on my list- so since this packaging looked so great- I got it.
Back
to top