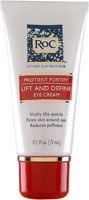 Gives me a lift

I use this every morning & have been doing so for about six weeks now. I do see a difference in my eyes. They're brighter & much less tired looking (even if I don't get my recommended eight hours). I have super-sensitive skin & it has not caused me any problems with daily use.

Not for sensitive skin

I bought the whole Protient Lift line because I really saw a huge difference using Dr. Perricone's products, and this had DMAE in it, like his products, and it's great for firming. Unfortunately, not being able to affod Perricone any longer, I switched to this thinking it would be just as good. My skin is sensitive, and while Perricone's products NEVER bothered me, this was awful. I had a red rash...read more around my eyes that burned like fire and made my eyes water. I don't know how it does for firming, because I didn't use it long enough. I would stay away if you are sensitive!

Total waste of money

I've used it for over 5 months and not the slightest change can be found/ it is nothing more than another useless moisturizer. Does not lift of firm or define anything.
Back
to top